Make Me Stay by Rebecca Brooks is the first book in the Men of Gold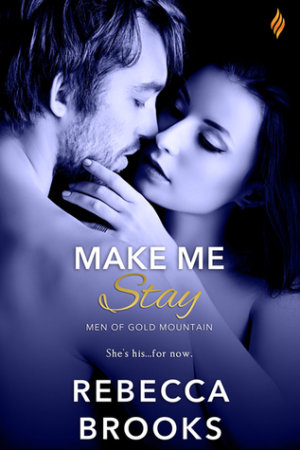 Mountain Series and even though the story is predictable at times, watching the characters grow and put their love for each other over everything, makes it a worthwhile read!
Samantha Kane is taking over her father's legacy and in order to do that she needs Austin Reede to sell his land to her. He refuses to sell to her and Samantha refuses to accept his answer. She's the type of woman who goes after what she wants. She's bold, strong, and a shark when it comes to business.
The land means something to Austin and he's stubborn enough not to listen to what Samantha Kane is offering. He's through with Kane enterprises and plans to shoot Samantha Kane down when she pays him a visit. Instead of Samantha, he's greeted by Sam. Sam and Austin hit it off immediately and before they know it, feelings get in the way of their quick romance.
"I don't know, okay?" She started to cry. "I didn't have a plan, and I always have a plan. Don't you know that about me? I always have a plan, and then you came along and suddenly I had no idea what to do."
When Sam's secret comes out, Austin doesn't take it well. Will love prevail or it will Sam's deceit end it all?
This book was enjoyable to read but I wished the author gave a little more thought into her naming process. Sam and Samantha are just too close together and it was very obvious that they were the same person. The only person who didn't get the memo was Austin, and I was starting to think he was a little slow, because the clues were right in front of him. Other than that, the romance builds at a nice pace and the characters certainly have chemistry together, making Make Me Stay a very sexy and satisfying read!

Book Info:

Publication: October 3rd 2016 | Entangled: Brazen | Men of Gold Mountain #1
Samantha Kane is about to solidify her father's legacy by developing sleepy Gold Mountain into the most profitable ski resort in the country. There's one man standing in her way though. One very sexy, rugged man. When she shows up to convince Austin Reede to sell, she has no intention of hiding her identity. But with a body like his, she'll take a few risks to get closer.
Austin was the fastest skier on the U.S. Olympic team, until he shattered his knee. Gold Mountain became his refuge—and now Kane Enterprises is threatening that home. When he meets Sam, he has no idea she's the one to blame, he just knows the attraction between them is one he hasn't felt in years. A scorching hot one-night stand is just what he needs. Little does he guess that it will change everything…