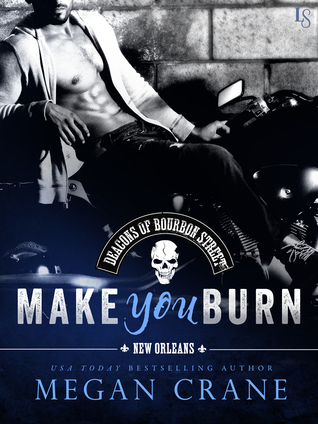 I really enjoy a good MC book, and Make You Burn (Deacons of Bourbon Street #1) by Megan Crane is a really great read. In fact, the entire series sounds interesting as each book in the 4 book series is going to be written by a different author and feature a different member of the club. This is Ajax and Sophie's Story.
Ajax was the VP of the Deacons of Bourbon Street. Sent away for 10 years along with 4 of his biker brothers by president and father figure Priest. When the call comes to Ajax that Preist is dead, he wasted no time hauling himself back to NOLA to pay respect, find out what happened, and step in to keep the club together. What he did not count on is that little Sophie, Priest's daughter is all grown up and making him so hot he want to explode.
All Sophie ever wanted was to be as far away from the MC Club and to live her life. When her dad sent away 4 officers over 10 years ago, and the club members started leaving the club, she thought that she had seen the last of the Deacons of Bourbon Street MC. When her father was killed, she is shocked to see Ajax back, along with Blue, Cash and Prince. She had a crush on Ajax for years, but he never noticed her before, now she can't seem to shake him and if she is honest with herself, she doesn't want to.
When more questions than answers keep popping up around Priest's death, it will be up to Sophie, Ajax and the MC Club to get to the bottom of what really happened to Priest and who was really responsible.
I loved the sparks, the interaction with Ajax and Sophie. They were HOT together, but Sophie would not let Ajax walk all over her. Even though she has grown up around the club, she knows the rules, and she knows when to show respect and when to open her mouth, she lets her feelings be known, and damn the rest. I love the interaction with the other members of the MC. Prince and Cash really don't want to be back, they where all sent out of NOLA to scatter after a last job gone wrong and did not look back. It will be interesting to see what happens next.
I really enjoyed this book and look forward to the rest of the series.
Book Info:

 August 4th 2015 | Loveswept | Deacons of Bourbon Street #1
Meet the Deacons of Bourbon Street, bad boy bikers who are hell on wheels—and heaven between the sheets. Megan Crane revs up an irresistible new series co-written with Rachael Johns, Jackie Ashenden, and Maisey Yates.
Sean "Ajax" Harding's oaths are inked into his skin. Once second-in-command of the Deacons of Bourbon Street motorcycle club, he left New Orleans to protect the brotherhood, and only the death of his beloved mentor, Priest Lombard, could lure him back. Walking into the old hangout gives him a familiar thrill—especially when he gets an eyeful of the bar's delectable new owner. A wild ride with her is just the welcome Ajax needs. Then he realizes that she's Priest's daughter, all grown up and totally off limits.
Sophie Lombard loved her father, not his lifestyle. She's done with bikers . . . until Ajax roars into town—arrogant, tough, and sexy as ever. And although he treats her like the Catholic schoolgirl he once knew, Sophie's daydreams tend to revolve around sin. With the very real possibility of heartbreak looming, Sophie knows better than to get too close to an outlaw. But every touch from Ajax is steamier than the Louisiana bayou—and heat like this may just be worth getting burned.