In Make You Mine by Macy Beckett, Allie is a baker with her own business. But due to her family's history and reputation, just as many people come into the shop for reasons other than a sweet treat! They come thinking Allie can see things, they come for love charms, and they come because they are curious. Allie's great-great Grandmother is said to have put a curse on the Dumont men 99 years ago,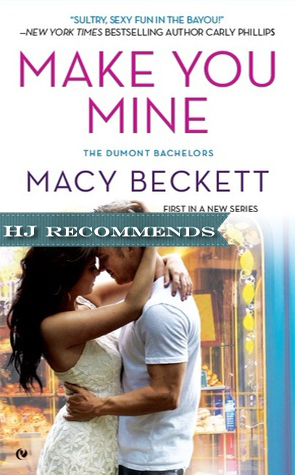 and none of them have settled down or married since. Allie doesn't believe in curses or hexes, to her it's all a matter of observation, psychology, and the power of your mind.
Marc Dumont is a man Allie has loved forever. Unfortunately Marc Dumont and the rest of the men in his family do believe in the curse. He broke her teenage heart years ago and has stayed away from her ever since.
When Marc suddenly needs a new pastry chef for his riverboat cruise, Allie is it! Allie jumps at the chance to not only spend 2 weeks with Marc to convince him the curse is a myth, but she gets to work with a chef she's admired for years. Marc can't run from Allie now, and as much as he tries, he can't hide from the chemistry they create and the feelings they have for each other. Strange things happen on the riverboat though, and inevitably people want to blame Allie. But is it a curse or a coincidence? Can Marc put aside his family's belief of the curse? Can he trust not only in himself but in Allie too? Or is their relationship doomed before it has a chance to really start?
Macy gives us a fun romance in Make You Mine! Allie is a strong heroine. I absolutely love how she makes the best of everything, including the legendary curse. She makes no apologies for who she is, she is hard working and honest. She definitely does not hide her feelings from Marc – there is no cat and mouse game in Make You Mine which makes it all the more intriguing. Macy develops Allie's character well and you can really feel for Allie past and present. Marc is also a strong character who is very loyal to his family. He's always been drawn to Allie and seen way more in her than the curse, but just when he thinks he's moved past that something else happens! Marc's seriousness to Allie's sassiness makes Make You Mine a very entertaining read!
I really liked reading Make You Mine from both Allie and Marc's POV's, it makes them even more realistic. The family connections on both sides is a great addition to Make You Mine and I can't wait to see where Macy takes us next!
Fast paced with great dialogue and humor effortlessly woven in, I'd recommend Make You Mine to any romance reader who likes things a bit hot!
Book Info:

Publication: May 6th 2014 by Signet
For ninety-nine years, every man in the Dumont family has remained a perpetual bachelor. Residents of Cedar Bayou, Louisiana, whisper about a voodoo hex cast upon the family, sabotaging each man's chance at marriage. In truth, the Dumont men have their own player personalities to blame, and Marc is no exception. As captain of his family's riverboat, he's broken hearts up and down the Mississippi. That is, until his high school crush strolls onboard…
Allie Mauvais rocks the boat when she fills in as pastry chef. She hasn't seen Marc since senior year, when rumors flew that her great-great-grandmother was the one who cursed the Dumonts. After two weeks on the water, neither can deny the attraction that still burns between them. But to truly reach Marc's heart, Allie must show him that the hex isn't real, and it'll take more than her mouthwatering sweets to prove it. Will Allie's love be enough to finally make Marc hers?