In Making It Right (Most Likely To #3) by Catherine Bybee, Sheriff JoAnne "Jo" Ward has come a long way in a decade. Formerly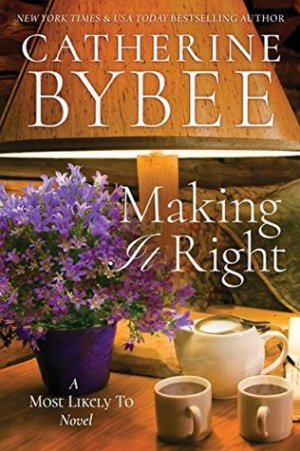 known as the problem child of small town River Bend's own sheriff, she now holds the prestigious job since his untimely death. And she does a damn fine job of it too. Jo keeps the teens in line, solves the local disputes, but it doesn't feel like enough. So an opportunity to train for a week at Quantico and enhance her skills sounds like heaven. But Jo figures out that heaven is actually found in the form of federal agent Gill Clausen, a huge, sexy, rough around the edges guy who makes his interest in her known from the start. And she's not really sure what to make of it.
"I never saw you dating a cop." Zoe sipped her wine…
"He's a Fed, not a cop."
"Is there a difference?" Mel asked.
"Probably not. But hell, I never thought I'd be a cop, so dating one can't be completely outside my new norm."
Gill has never been as taken with a woman as he is instantly with Jo. She's a firecracker, but he knows underneath the sass and subtle beauty she's hiding a world of pain. And he knows a few things about pain. As Gill settles back into work, he decides to visit the lovely sheriff and see if their attraction could lead to a relationship. But he's soon pulled into assisting Jo with some strange incidents occurring locally as well as looking into her father's death ten years ago. Something about it never sat right with her. And just when they seem to be getting a few answers, the danger against Jo increases. Gill isn't about to let anything happen to her, whether they solve the mystery or not. But he will make sure they get their chance to see where this thing between them is headed.
"Give them something to gossip about." He reached for her waist and pulled her close…
He thought for sure she'd push him away.
She didn't.
So he kept his lips to hers until she moaned…
"My badass rep is now shot to hell," she said, licking her lips.
Gill took the backpack from her shoulder. "Have you seen the size of me? Your badass rep just showed up."
Perfect. Making It Right was the absolute perfect way to cap off the heartwarming Most Likely To trilogy, letting readers spend some time with all three lovely ladies we've met along the way, and their sexy male counterparts, before saying farewell. (And what a beautiful, inviting book cover to leave us with as well, right?)
So anyone who has been following this series has probably been as excited as I have to see who would finally bring badass sheriff Jo Ward to her knees…emotionally, that is! And, oh, did Catherine Bybee have just the right guy in mind. As much as I've loved the previous two heroes we've met, Wyatt and Luke, Gill turned out to be one swoon-worthy fella. I can honestly say that there was nothing about him–or Jo, for that matter–that bugged me or that I was even remotely frustrated with. Nope. I loved how honorable and true Gill and Jo were as individuals and in their careers, as well as their loyalty and dedication. But most of all, they were just *fun*. The way they flirted. How they got under each other's skin in the best of ways. It all added up to one seriously sweet match up and I adored them together.
I did love getting to see Jo's wilder side come out here too. We've had glimpses of it in Mel and Zoe's books but this time the good sheriff was restless and looking to blow off some steam. And the sparks certainly did fly, right from the start, between Gill and Jo. They had amazing chemistry, full of passion but also with an underlying tenderness that I felt like they both needed in their dangerous lives. It fit them well, that's for sure. And it was nice to see that Gill fit in with Zoe, Mel, Wyatt, Luke, Miss Gina, and the rest of the River Bend crew so well. Jo was not normally into relationships so it was an adjustment for both her and Gill, but watching the cute and steamy antics as they worked their way through their issues was quite entertaining.
Catherine Bybee did oh-so right by her fans with this stunning conclusion. (As always!) It was bittersweet, between saying goodbye to this cast of characters and finding out the truth behind Jo's father's death, but there were many more happy, fulfilling moments than sad thankfully. Highly recommended!
Book Info:

Publication: May 9th 2017 | Montlake Romance | Most Likely To #3
In the final book in bestselling author Catherine Bybee's Most Likely To trilogy, River Bend's rebel follows in her father's footsteps to become sheriff. But it might be time to forge her own path…
Some kids inherit a family business; Jo Ward inherited a badge. Once voted Most Likely to End Up in Jail, the town wild child has become sheriff—hell-bent on uncovering the truth about her father's mysterious death. Life is quiet in rustic River Bend, but Jo longs for something beyond her small hometown and the painful memories it holds. All that keeps her sane is the support of her best friends, Melanie and Zoe.
But when Jo signs up for an expert law enforcement training seminar, she meets Gill Clausen, whose haunting eyes and dangerously sexy vibe just may challenge her single-minded focus. Commitment-phobic Jo can't deny her attraction to the arrogant federal agent, and when odd things start happening around River Bend and danger surrounds her, she realizes she'll need his help to discover who's out to remove her from River Bend…permanently.
As Jo and Gill work together, it's clear they make a great team. But can Jo loosen her grip on the past enough to let love in and reach for the future?