Manhandled by Cari Quinn and Taryn Elliot is filled with sexual tension, witty banter, and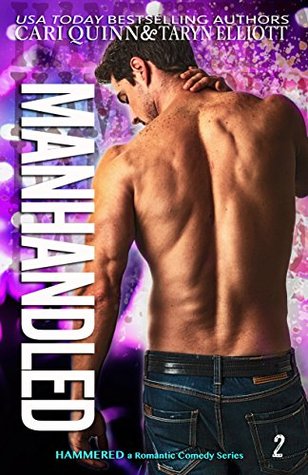 a whole lot of romance! This is book two in the Hammered Series and can be read as a standalone, but I think it works better if you read Hunter's story first, which is titled Manaconda. Either way, it's up to you but you get a better understanding of how the band got to where they are if you read them in order. For those of you who read Manaconda, this book literally blows that story out of the water with its awesomeness and that's saying something since Manaconda was a great read and best of all, Manhandled does not end in a cliffhanger!
Faith Keystone is the only woman in the rock band and when someone slips her Ketamine and puts her in the hospital, it's time to bring in more security. Keys lands herself her very own bodyguard. Only problem is she doesn't want a bodyguard and Quinn doesn't want to be there, especially since he hates rockstars. Quinn is only taking on Faith's case because of a favor. They are completely different people who would never end up together on their own, had they met each other on the street. While he likes his solitude and order, Faith is loud and outgoing, but because she has a stalker on her hands, she has no other option but to listen to what Quinn tells her and boy does he have plenty of rules for her to follow.
The longer they are together, the fewer problems Quinn has with guarding Faith's body.
"This woman had to be the one to test all of my resolves. This woman who brought men to their knees without even trying."
The attraction between the two will steam up the pages in no time. I adored both characters. I really loved the fact that the rockstar in the book was a female. She's also not the stereotypical rockstar. Sure, she looks the part but she's selective who she sleeps with and stays away from drugs. As for Quinn, he comes off sexy and controlling, which is a major plus for me. It's exactly how I love my heroes. Even though they try to fight their growing connection, it's no use because they belong to each other.
If you enjoy your romances with rockstars or bodyguards or love the opposites attract trope, this book is definitely for you! Manhandled is highly recommended!
Book Info:

Publication: April 8, 2016 | Rainbow Rage Publishing | Hammered #2
My name is Faith Keystone, but my friends call me Keys.
I'm the piano player for Hammered.
Did I mention I'm the only female in my band?
That means I technically have five older brothers.
Can't forget my manager and security team, too.
Alone time is nonexistent.
I escaped an overbearing family to join this happy circus, and most of the time it's awesome.
Except now, because of one teensy little incident at a show.
Now I have this hulking bodyguard shadowing me like a freaking puppy.
Only this puppy is more like a Doberman with an attitude problem.
And he only knows one word—NO.
I hate that word.
And I hate Quinn Alexander.
The one thing I do like is giving him the slip. Is it wrong that I kinda like when he growls at me after he finds me?
Because he always finds me.
Worst of all? I want him so bad that I keep forgetting I hate him.