Manipulated by Cari Quinn and Taryn Elliott is book three in the Hammered Series but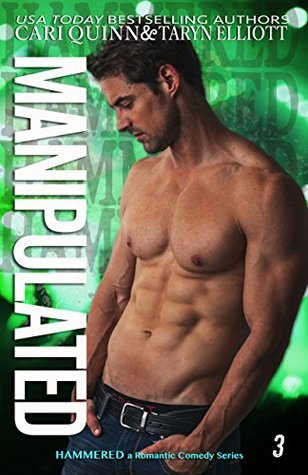 can certainly be read as a standalone. I've read quite a few book by these two authors and I have to say, I think Manipulated might be favorite, so far.
Owen Blackwell, member of the band Hammered, is trying to get over his best friend and fellow band member, Keys. Keys found her love interest in the previous book, Manhandled. Owen decides it's time to get over her and looks to find a woman to take his mind off of his broken heart for a bit. When he sees a beautiful woman with a camera around her neck at the party, he's immediately captivated by her.
Callie Templeton needs to move on from her divorce. She gave everything up when she got married and is now trying to find herself and her photography again. Her sister, Ava, allows her to take some boudoir shots of her for her portfolio, as long as she attends a Halloween party. The party is a great way for Callie to take more pictures, as well as, getting her out of the house. At the party, Callie meets a few members from Hammered and through her pictures, she shows the world another side of the band.
Owen and Callie develop an immediate attraction to each other at the party, but when they get close, really close, Callie gets spooked and runs away. A second chance is given to them when Callie is hired to take intimate photos of the band. Now, there is nowhere for Callie to hide.
"All this time, I'd been waiting to be caught up just like this. He was a revelation, and possibly my ruin all in one."
Both, Owen and Callie are scared of their feelings. Owen is realizing that what he felt for Keys doesn't even come close to how he feels for Callie. As for Callie, she feels insecure and is afraid of her feelings for Owen. She's already been through a disastrous marriage to a man who took everything from her, and now her first instinct is to run. Will Callie let her fears get the best of her and ruin her chance at love?
Owen is such a sweetheart. He's also sexy, talented, and possessive, at least when it comes to Callie. He was the perfect match for her. I liked Callie's character too. She's flawed, realistic, and has real fears that keep her in check. Together, they are able to face their past and look toward a future with each other.
If you're a fan of rock star romances, Manipulated needs to be your next read!
Book Info:

Publication: August 31st 2016 | Rainbow Rage Publishing | Hammered #3
My name is Owen Blackwell, and I'm currently in recovery.
Not from what you think, though I do enjoy a bit of whiskey.
No, my issue is that I fell foolishly in love with my best friend. Oh, and she's getting married.
So, in my eternal stupidity, I hooked up with a woman at our annual masquerade ball. You know what they say—the best way to get over a woman is to get under another.
Who is this woman, you ask? Calliope Templeton. She's unlike any other I've ever met. And believe me, as the guitarist for Hammered—only the biggest selling rock band out there right now—I've met quite a few.
Now I have to figure out how to convince her we're more than just a one-night stand. She's supposed to be my happily ever after.
And if necessary, I'm willing to show her just how resourceful one determined Irishman can be…