In Marrying Winterborne (The Ravenels #2) by Lisa Kleypas, Rhys Winterborne may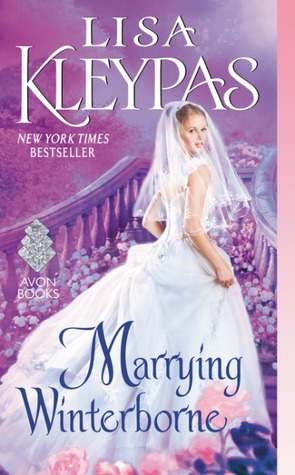 not have expected, but he certainly hoped, that he would one day become a wealthy, successful businessman who could rise above his poor Welsh upbringing. He has realized that dream after many years of hard work, now owning a large, profitable department store. But what he truly wants is timid Lady Helen Ravenel as his bride. Believing he ruined his chances at a future with her, Rhys has tried (unsuccessfully) forgetting the beautiful lady. So when Helen expresses her interest in renewing their engagement, he will do whatever it takes to win her hand permanently.
"I can't be a gentleman," he said hoarsely. "Not even for you."
"You don't have to be a gentleman. Only gentle."
Helen has spent years as the outsider in her own family, never knowing much love or kindness aside from her twin sisters Pandora and Cassandra, and now Devon and Kathleen who are fairly new to her life. But it is Mr. Winterborne whom she longs to be with for the rest of her days. After the misunderstanding that ended their engagement, Helen must find a way to convince Rhys of her feelings for him. She's afraid that once he learns a truth from her past, though, that he will not be as likely to take her back. When she's given a choice that will be certain to ruin her good name, Helen decides it is worth it to have the brawny Welshman as her husband.
His voice turned husky. "Damn you for saying I could survive without you. I'll have to punish you for that, cariad. For hours…" His mouth crushed over hers, dizzying and blatantly sexual, making promises that sent her heart racing.
What a phenomenal story! Marrying Winterborne was a historical romance with a lot of heart, some well done drama, and several exquisitely tender scenes between our hero and heroine that took my breath away.
There is just so much to love about this book that it's difficult to know where to begin. First off, Lisa Kleypas's writing was spot-on. I mean, I always love her stories but there was such a great flow to this particular one. The descriptions she used in each scene really created a vivid picture for us readers, especially where this was told from a few different POVs. It felt like we got to know each character quite well and could understand exactly where they were coming from.
My favorite part was seeing how dramatically Rhys changed when he was around Helen. I loved that he was kind of a big grumbly, shrewd businessman who treated his woman with the utmost care. He would do anything for her and felt such devotion towards her that it was swoon-worthy. While everyone else around him was almost afraid of him–not that Rhys was mean…he was just particular about things–demure, soft spoken Helen had Rhys on his knees emotionally. I also loved the lighthearted moments between them where they flirted and showed off their witty bantering skills. They made an adorable couple and simply a perfect pair.
This can be read as a standalone where there is a lot of the backstory included about the Ravenels and Rhys, but I think it would mean more if you read book one first. For those of you who are familiar with the series, we got to spend some serious quality time with all the previous characters again which was great. As much as this was Rhys and Helen's story, this was also very much about the Ravenels and family, in general. The twins, Pandora and Cassandra, were just as lively and endearingly naive as ever. And Devon and Kathleen were still as smitten with each other as they were in Cold-Hearted Rake. Maybe even more so.
Lisa Kleypas is absolutely on top of her game here with Marrying Winterborne. This series is only getting better with each new installment so I can only imagine what book three will bring us next year. Can't. Wait.
Book Info:

Publication: Published May 31st 2016 | Avon | The Ravenels #2
A ruthless tycoon
Savage ambition has brought common-born Rhys Winterborne vast wealth and success. In business and beyond, Rhys gets exactly what he wants. And from the moment he meets the shy, aristocratic Lady Helen Ravenel, he is determined to possess her. If he must take her virtue to ensure she marries him, so much the better…
A sheltered beauty
Helen has had little contact with the glittering, cynical world of London society. Yet Rhys's determined seduction awakens an intense mutual passion. Helen's gentle upbringing belies a stubborn conviction that only she can tame her unruly husband. As Rhys's enemies conspire against them, Helen must trust him with her darkest secret. The risks are unthinkable… the reward, a lifetime of incomparable bliss. And it all begins with…
Marrying Mr. Winterborne