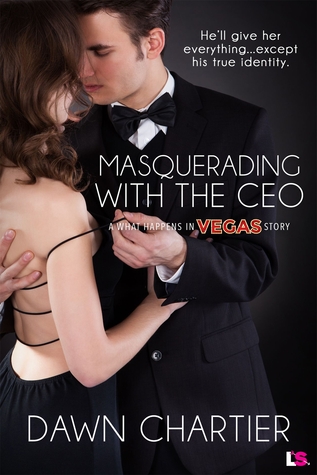 Masquerading with the CEO by Dawn Chartier: This book was so-so for me. Kylie first meets Jake as he was taking tic-tacks from the store. Not realizing he owns the place, she confuses him for the head of Jack's security, Macon. She gives him a false name, he doesn't correct her assumption that she's Macon, and so they both start the relationship with a lie. Even when Jake realizes Kylie is the designer he's supposed to meet with to redecorate his hotel and casino, he still doesn't come clean.
I found Kylie to be a bit hypocritical. She gave Jake a false name as well, but she acts as if he's the only one in the wrong. I liked Jake, but he had plenty of times to come clean and didn't, which was a negative for him.
At 130 pages, this book barely misses the requirements to call it a novella, but it reads like one. It was a quick read, and it felt like the characters and storylines weren't flushed out enough. There were situations, like the practically non-existent relationship between Kylie and her father, or the confrontation with her ex-fiancée, that were mentioned but grazed over with no real resolution. If it had a little more depth to it, I would have enjoyed it much more.
If you're looking for a quick, easy read, this would be one to consider. If you're looking for something that has depth and makes you feel emotionally invested in the characters, you would be better looking elsewhere.

Book Info:

July 21, 2015 | Entangled: Lovestruck |
After catching her fiancé cheating on their wedding day, interior designer Kylie Edwards swore off high-powered men. But before she can drown herself in wedding cake, she's dragged to a Vegas romance conference by her friends. At least she'll be able to meet the hotel's owner and pitch her new design idea. And maybe attend the elaborate masquerade ball, where business unexpectedly becomes pleasure with the hotel's oh-so-hot head of security.
Jake Royale's no security guy—he owns the hotel and casino. The masquerade ball gives him the perfect opportunity to drop his high-profile identity and blend in. To be seen as a man, not his money. But when one hot night with Kylie becomes more, Jake knows he's screwed. Not only will his fake identity cost him the design that will catapult his casino back to the top, it might just cost him the one thing money can't buy…