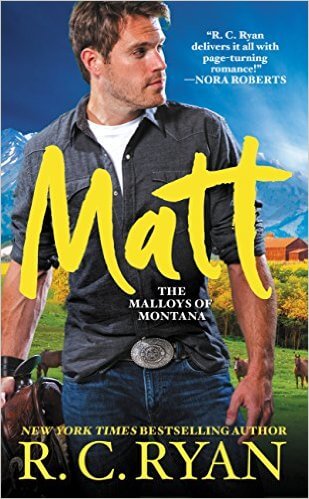 In Matt (Malloys of Montana #1) by R.C Ryan, after two weeks in Italy, Matt Malloy is glad to be home. He's looking to spend some time up at his cabin alone, yet it seems his Gran has other plans for him. She needs him to meet with Vanessa Ketterling; an animal activist lawyer that wants information. But when a storm traps them in the cabin together, they find themselves making the most of the time in more ways than one. But when a threat to Vanessa's life has her needing protection, the best place for her to be is the Malloy Ranch, which has her spending more time in Matt's company than she's prepared for. Because he's the one man that she could very easily fall in love with.
"Very funny. You could have called and told me to expect a woman."
"Yeah. I could have." Burke chuckled. "I even packed some of your grandpa's whiskey, just in case she drinks like all those other Eastern lawyers."
"You're enjoying this, aren't you, old man?"
Burke chuckled. "More than I should. I wish you could've seen your face. It was priceless."
This book was a brilliant start to the Malloys of Montana series by this author, encompassing the mysterious strangers trope, a couple that aren't looking for love but need it to survive, a heroine in desperate need of protection, and a hero willing to do anything to keep her safe. Although this story started off slow, it became fast-paced and engaging once Matt arrived home from his business trip to his family. They're a tight-knit bunch that will do anything for each other, and it seems that perhaps Matt's grandmother is matchmaking for her grandsons.
The dialogue was well-written, and I loved the playful banter between Matt and Vanessa. They both are passionate about things they believe in, which is proven when they first meet. While Vanessa is all for defending animal rights, Matt is determined to prove there are certain instances where a rancher has to do all it takes to make sure his ranch can continue to survive; to prove that there are some times when an animal can't be saved.
I really liked both main characters, as well as the secondary characters. Vanessa is strong, brave, independent, hard-working and tenacious. She's never been in danger by her dad's career before, but there's a first time for everything. And even though she's unprepared for the way her life is about to change, because she and her father are close, she knows staying with the Malloys is the right thing to do to keep her father from worrying. Indeed, she has quite the adventure and learns a lot on the ranch, not just because of Matt but because of his entire family, especially his grandmother. The elderly woman is quite the adventurer with the wilderness explorations she heads out on a regular basis.
"One of these days the right woman will come along, and he'll find himself in over his head."
Matt shot her a sideways glance. "Are you speaking from experience?"
She flushed. "I only know what I've seen with my friends. Even the most dedicated singles among them cave when the love bug bites."
"Looks like they need better bug spray."
While Matt, he's an all-around good guy. He's confident, tenacious and protective. He loves the chance to escape from his life every once and a while, and his cabin is the right place for it. However, Lauren keeping him company is just as good — if not better – than being alone. The hero is also determined to make her stay on the ranch as pleasant as possible for her, even though he knows she must be worried for her father. Yet, she proves she's tougher than she looks, especially when Matt learns about her past and what she went through with her mother. Moreover, his determination to protect Lauren was what I liked most about him because the people looking to hurt her will not stop.
Overall, this was a really good book where the sex scenes were nicely-detailed. The growing relationship between this couple certainly produces some strong sexual tension that spilled over onto the pages at the right moments; moments when these two needed each other the most. Because sooner or later, the danger Lauren was facing would catch up with her, no matter how hard the Malloy family tried to keep her safe.
This story ended really well, despite the fact that Lauren's dad did what he thought was right, yet it wasn't. Luckily, Lauren managed to convince her dad that she needed Matt in her life. Furthermore, the epilogue showed how happy this couple are together, and how they need to make more memories to add to the ones they've already made. I would recommend Matt by R.C Ryan, if you enjoy the mysterious strangers trope, or a romance novel with a dose of suspense.
Book Info:

April 26th, 2016 | Forever | Malloys of Montana #1
Wild Horses Couldn't Drag Him Away From Her
Raised beneath the big Montana sky, Matt Malloy was never meant to be a jet-setting businessman. But he'll do anything to protect the family ranch he shares with his brothers. Coming home after a two-week trip to Italy, Matt wants nothing more than to shed his suit and tie for a well-worn pair of jeans and ride his horse up to the cabin for some alone time. The last thing he needs is a big-city lawyer invading his privacy-even if she is the most beautiful woman he's ever seen . . .
Vanessa Kettering has devoted her life to her work. As a passionate animal rights defender, she doesn't have room for anything else. But from the moment she meets Matt, she's taken with this rugged cowboy's lazy smile and tender touch. When a raging storm traps them inside his cabin for the night, one steamy kiss leads to another, sweeping them away with a force that's as wild and untamed as the land he loves. But when the morning light comes, will she lose her heart?