In Maybe This Time by Jennifer Snow, Abigail Jansen has returned to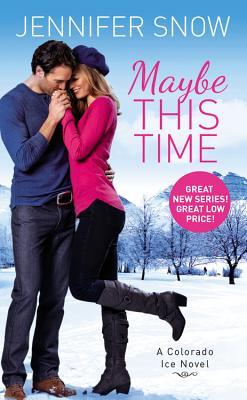 Glenwood Falls, Colorado, while divorcing her husband, Dean, a hockey player in the NHL and best friend of Jackson Westmore. Jackson refuses to believe the rumors that Dean was a cheater, instead, he gives Abigail the cold shoulder. That is until Abigail's daughter, Dani, decides to try out for the co-ed hockey team that Jackson coaches and Abigail accepts a substitute teaching position at the school Jackson coaches at. As time passes and he spends more time with Abigail, Jackson realizes that maybe Dean isn't the man he used to be, and that maybe, just maybe, his childhood crush on Abigail can finally turn into something more.
At first Jackson irritated me a bit. He's initially rude to Abigail, at times pretty much calling her accusations about Dean a lie. He refuses to acknowledge the fact that Dean could change. As he spends more time with her though, his hostility thaws and readers can see that he is a nice guy. He even goes as far as agreeing to sell Abigail the house he just flipped, the dream house he was going to keep for himself, just so Abigail and Dani would have a place to live. I also felt bad for him. His dream had been to be a NHL player. He had only made it to the ECHL, quitting when his father got sick to become a coach. His brothers, one older and one younger, were living his dream of playing in the NHL and he feels a bit left out. When he has an opportunity to return to his old team, he struggles about accepting the chance or staying where he was at because Abigail didn't want to be with a hockey player after what happened with Dean.
I enjoyed Abigail. She's a strong woman. With Dean causing her nothing but issues, she still sticks to her guns and does what's best for Dani. When Jackson initially gives her an attitude, she basically tells him he can believe what he wants. While his attitude upsets her, she refuses to let him know that. She hasn't worked before, living off of Dean's income. So, without experience, she applies to be a substitute teacher. When they're hesitant to give her the job, she refuses to back down, insisting that they let her prove herself.
Dani was hurting because of the divorce. All she wanted was time with her father, time Dean never wanted to give. One of my favorite scenes was when Dani finally acknowledges the man her father truly was.
"Dad, I used to think you were the greatest hockey player ever, and I wanted to be just like you, but Mom's the real hero. She'd never put anything else before me," she said.
If you've read the first book in the series, Maybe This Kiss (which is actually a novella), you'll remember Jackson's sister Becky and her husband, Neil. Becky makes several appearances in this book, and Neil makes a brief one, as well. It's not necessary to have read Maybe This Kiss before this book, but if you want to have a better opinion of Neil, you might want to. While he comes across as unsupportive of Becky's career choice in this one, he's a much nicer character in the first one.
Maybe This Time is an enjoyable book about a woman struggling to overcome her trust issues with hockey players after her divorce while raising a young daughter, and a man struggling to accept his fate while hoping to have a shot with the woman he's always wanted. I recommend giving it a read.
Book Info:

Publication: November 29, 2016 | Forever | Colorado Ice #2
Abigail Jansen is done with hockey . . . and hockey players. After leaving her two-timing NHL-star husband, Abby decides to start over in her hometown of Glenwood Falls, Colorado. There she doesn't have to deal with people gossiping behind her back or hear the word "hockey"—until her daughter tries out for the junior hockey team. Now Abby has to face her fears . . . and coach Jackson Westmore. He's tall, dark, handsome—and happens to hate her.
All through high school, talented hockey player Jackson Westmore had a crush on Abby, but he would never make a move on his best friend's girl. He gave her the cold shoulder out of self-preservation and worked out his frustrations on the ice. So when Abby returns, newly divorced and still sexy as hell, Jackson knows he's in trouble. Now even the best defensive skills might not keep him from losing his heart . . .