Meant for You by Michelle Major: When backed into a corner, Jenny Castelli mouths off and acts out. One time, it lost her the best man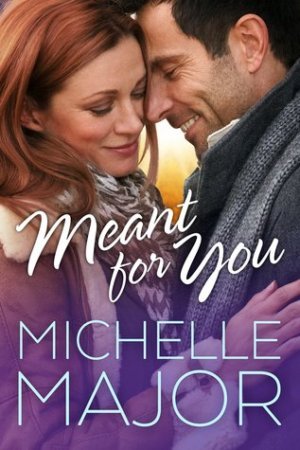 she knew. This time, it'll bring him right back into her life. When Jenny lies about having a wealthy, perfect fiancé to the former high school mean girls after they insult her son, she'll have to actually find one to play the part at her high school reunion.
Owen Dalton fell hard for Jenny, but then she broke his heart. When she comes asking him to play her fiancé for a night, the last thing he wants to do is say yes, but he still finds himself unable to deny her. In return, though, Owen gets her playacting fiancé for a week when he visits home for his brother's wedding because he's always been the outcast and he knows she'll be in his corner.
What they each believed was over, sparks back to life as they become fixtures once again in each other's life. But Owen will have to see if he can truly trust Jenny ever again, and Jenny will need to learn how to trust in a happy future.
"You're necessary," she murmured, and those two words made his heart stumble a beat. He was used to people wanting him for what he'd created and built with Dalton Enterprises – his reputation or connections. The way Jenny said it made him think she found him necessary for something more.
I'll admit, I felt the premise was just a little too silly and unbelievable. But even so, Meant for You is definitely a cute story. Although Jenny and Owen had a past, I didn't feel as though I was missing anything which I'm happy about. And their relationship felt present. They had their issues to work on from the past, but it didn't overtake what they were now building.
Both Jenny and Owen had their self-doubts and, although plenty of drama did happen, I liked them both because they worked past it. They were each strong and wanted to reach for that better future – and, in the end, reached for it with the other. Their faults, too, I very much felt were real and it definitely humanized them and made them fit better together.
For those who love a good second chance romance, I recommend Meant for You by Michelle Major. It's got drama, tension, and an adorable little kid!
Book Info:

Publication: March 28, 2017 | Montlake Romance |
Single mom Jenny Castelli has a temper to match her red hair. When the former mean girls of her high school insult her son, Jenny fires off a big lie—that she's engaged to a rich, handsome guy and is bringing him to their ten-year reunion. Now she needs to find the perfect fake fiancé for one night. And only one man fits the bill.
Geek turned tech entrepreneur Owen Dalton already had his heart broken by Jenny Castelli. Still, he finds himself agreeing to her proposition—even as he struggles to remember that the chemistry sparking between them isn't real. But when Jenny's ex makes a play for custody and Owen is forced to deal with the family who always treated him as "second best," their arrangement suddenly becomes very personal. And that lie they've been telling everyone? It isn't nearly as big as the one they've been telling themselves.