Meet Me at the Beach (Seashell Bay #1) by V.K. Sykes is a second chance love story set in the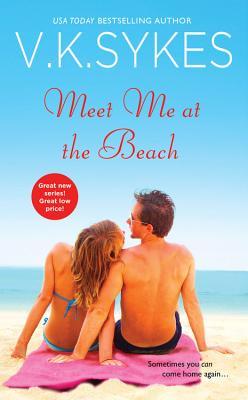 little sea side island of Seashell Bay. It is about dealing with the demons of the past and finding that once in a lifetime love, with the one person that you have compared everyone else to.
Aiden Flynn grew up in the sleepy little fishing island of Seashell Bay where lobster fishing is a way of life. All he ever dreamed of doing was getting as far away from Seashell Bay and his abusive father as he could. Living his dream of being a professional Baseball player. Well dream recognized, until he injured himself and finds himself cut from the Phillies. Now back in Seashell Bay, the one place he hates more than any else, he has decisions to make that while helping his brother and father, could destroy this sleepy little island and hurt the only girl he has ever loved, the one girl that he can't forget.
Lily Doyle has loved Aiden since they were teenagers riding the water taxi back and forth to school. It nearly broke her to see him leave Seashell Bay. But lobster fishing is in her blood and now she owns her own boat, just as she always dreamed. But when a big city developer tries to convince the Flynn's to sell there land so that they can build a luxury resort, it will be up to Lily to remind Aiden that not everything in Seashell Bay can hold bad memories, and as hard as he might fight it, fishing, and the island are in his blood.
A town divided, the potential at a second go as a pro-ball player, and pushy resort developers might stand in the way of Lily and Aiden having their HEA, but these two will need to take a hard look at their lives and decide what is really important, living their dreams, or following their heart.
Ok, I really enjoyed Aiden and Lily's story. They had been in love when they were teenagers, but both wanted different things in live, Aiden to get as far away as possible, while Lily wanted nothing more then to fish, fall in love and raise a family. They seemed to be polar opposites, but at heart, they both cared what happened to their island town, the people and the community. They were both willing to make sacrifices in order to be together, and in the end, this is what made their HEA that much sweeter.
Aiden's relationship with is father treatment of him and his brother unfolded little by little, and towards the end of the book, you really got that despite how Aiden should have hated his father for the things that he did, the things that he put him through, in the end, it is all about family. You don't give up on family, and you try to save them in anyway that you can, even if it is saving them from themselves.
I would recommend this book to anyone who is tired of the snow and cold and looking for a sweet summer read about second chance, laughter, family and forgiveness.
Book Info:

February 24th 2015 by Forever |  (Seashell Bay #1)
YOU CAN'T STOP A RISING TIDE
When Lily Doyle spots her high school crush Aiden Flynn on the inbound ferry, she knows trouble is about to dock in Seashell Bay. And not just because he's more handsome than ever. If Aiden's in town, the rumors must be true about his family's plan to sell their coastal land to the highest bidder. But Lily will do whatever it takes to convince the hottest guy on the beach to protect their idyllic island home.
Gorgeous Lily Doyle was the only thing Aiden missed after he escaped from his hometown to play pro baseball. Now all Aiden wants is to wrap up the business deal and get back to his life, not relive a past that still haunts him. But as memories rush in about the night of passion he and Lily shared long ago, everything else washes right out to sea—everything except the desire that still burns between them.