Mendoza's Secret Fortune by Marie Ferrarella: Rachel is in Horseshoe Hollow after running from her family. She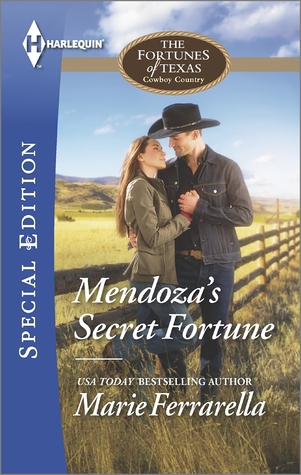 discovered a family secret that left her questioning everything she's ever known. Since running, she's changed her life and is now working two jobs rather than living on her family's money. Matteo is still in Horseshoe Hollow, but he's looking forward to returning to the excitement of Miami…until he sees Rachel. Matteo is definitely interested, but his brother Cisco beats him to the bunch by asking her out. Matteo and Cisco have spent what seems like their whole lives in competition with Cisco most often winning their battles.
Rachel and Matteo clearly have chemistry, but they also have communication issues. Matteo is more of a beta hero; he's cautious and takes time to weigh the options before he acts. At times, Rachel has to make the first move.
"I just wanted to tell you one more time that I had a very nice time tonight," he said.
She surprised him-and herself-by saying, "Show me."
Matteo looked at her, confused. "What?"
"Show me," Rachel repeated.
"How?" he asked, not exactly sure he understood what she was getting at.
Her mouth curved, underscoring the amusement that was already evident in her eyes.
"Oh, I think you can figure it out, Mendoza," she told him. Then she sighed loudly, took hold of the two sides of his button-down shirt and abruptly pulled him to her.
Matteo was more than a little surprised at this display of proactive behavior on her part. She really was a firecracker, he thought.
Matteo is also sensitive, vulnerable, and scared of yet again losing out to Cisco. Matteo is more likely to withdraw from a conflict with Cisco rather than rise to the occasion, which leaves Rachel confused and feeling like she may only be the latest prize to be won between the brothers. Rachel's own past also makes her vulnerable and prone to question what's happening with Matteo.
Mendoza's Secret Fortune is a small town romance between two people lacking in self-confidence. Some of the conflicts were resolved very quickly and Rachel's family secret is revealed in part, but ends without being fully revealed or resolved. I appreciated that Marie Ferrarella created a sweet, kind hero who isn't a playboy.
Book Info:

Publication: February 17th 2015 by Harlequin (first published February 10th 2015)
MAY THE BEST MENDOZA WIN!
The Fortunes are not the only hotties in Texas; their longtime friends the Mendozas are legendary for their good looks and ardent hearts. Tall and dark with soulful eyes, Matteo Mendoza is a pilot whose charms have too often been eclipsed by his more outgoing brother, Cisco. Now, Matteo has set his sights on cantina hostess Rachel Robinson. Brother, look out!
After several years on a self-imposed "romance diet," Rachel finds Matteo to be a treat she just can't resist. But she's already been through her own family heartbreak—the last thing she wants is to come between the Mendozas! Can she learn that following her heart might lead to the greatest fortune of all?