In Midnight Hunter (Execution Underground #3) by Kait Ballenger, Dr. Shane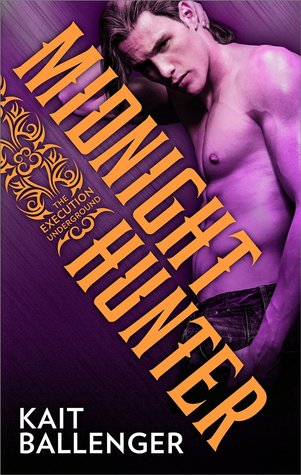 Grey, professor at the University of Rochester and witch hunter with the Execution Underground, has his first chance to take the lead on an investigation. Only this case involves some serious black magic, something that could mean bad things for Shane and his team. Involving his student, witch Vera Sanders, is critical to solving the case. But with their explosive chemistry, he may not be able to keep his heart from getting involved as well.
'Not only had he trusted her when it came to the case, he'd allowed his heart to open to her, as well. That just made her lies all the more painful, like pouring salt in an already-open wound or a cheap shot to the family jewels.'
Vera has dabbled in black magic in the past and is trying to stay away from it and the addictive power witches get from the stuff. So when Dr. Grey asks for her help with his case, she has a hard time saying no, even though it could mean a trip to the Execution Underground's detainment cells. Vera walks a fine line between telling the truth and withholding information that could expose the secrets she's been hiding for so long. If anyone can make her a better witch, though, it would be hunky nerd Dr. Shane Grey.
"This was dangerous, so dangerous, because not only was Dr. Shane Grey her professor and her attraction to him highly inappropriate, but a witch like herself hanging around with a witch hunter was equally, if not more, deliriously dumb.'
Midnight Hunter was a fun, action-fueled paranormal romance that left me with a big ol' smile on my face. With a hero who's a mix of alpha and beta, and a heroine who's a witch addicted to black magic, how could it NOT be interesting?
Author Kait Ballenger has managed to write a paranormal that didn't take itself too seriously, while still having a heartfelt side as well. It was those contrasts that held my interest the whole way through. The hunters she has created for the Execution Underground were a comical bunch of alpha guys. So when Dr. Shane Grey was in the mix, with his PhD's and Mensa card, it shouldn't work. But Shane was a cool blend of alpha badassery under his highly intelligent professor exterior. Perfect book boyfriend material, if you ask me. 😉
Vera was another intriguing character. A witch with a dark past and family secrets she'd been hiding, she was street wise and fiercely independent. There were actually two struggles keeping her and Shane apart that were equally interesting: witch vs witch hunter and student vs teacher. Both issues meant that their attraction should be taboo but nothing could keep Vera and Shane from finding their way back together.
I have to say that, for me, the student-teacher part wasn't a huge deal where they were only four years or so apart in age. But it did bring about a memorable encounter in Shane's office and a funny moment when Vera hears the ringtone he used for her on his cell phone. Loved that part!
If you enjoy paranormal romances with a solid plot, shocking revelations, and a sweet & sexy couple, look no further than Midnight Hunter.
Book Info:

Published September 1st 2015 | by HQN Books | Execution Underground #3
Hunters of the supernatural, The Execution Underground are an elite group tasked with protecting humanity…but can dark temptation destroy good intentions?
Occult specialist and witch hunter Dr. Shane Grey is called upon to investigate a string of crimes that bear all the hallmarks of black magic. But he can't take on this daunting assignment for the Execution Underground alone. He'll need the help of Vera Sanders, a witch with a dark past—and a woman who disturbs him as much as she intrigues him.
Vera is determined to ignore the dangerous chemistry between herself and Shane so she can prove her loyalty to his cause; otherwise she risks the wrath of the Execution Underground once again. If she can't make Shane trust her, they won't stand a chance in hell of defeating the evil that's terrorizing their city. No easy task, considering old habits die hard…and Vera may be the very person responsible for luring Shane into a killer's trap.