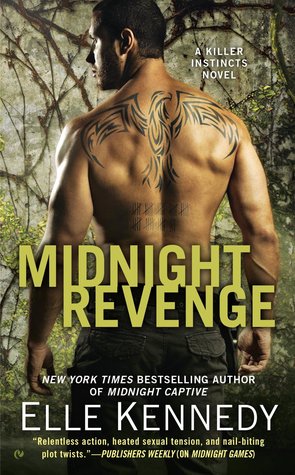 In Midnight Revenge by Elle Kennedy, Derek "D" is an enigmatic, black ops mercenary whose past has shaped who he is today. It is no easy task to get behind his walls, erected in self defense so long ago that even he has lost sight of anything but the ops. He doesn't feel, he doesn't care. But buried deep inside might be an entirely different story. The one person who stands a chance at breaching those walls is Sofia, a doctor who is no stranger to D. And when a personal mission turns into a nightmare involving Sofia, D might just have to face his demons if he wants any kind of future.
D is a complicated, multi layered hero. Elle wrote his character so well, and as the layers that made up D were peeled back, I felt so much for him. How he survived what he did to become who he is today is almost a miracle. As dark and dangerous as D is, I could sense there was so much more to him, and I really liked getting to know him in Midnight Revenge. Sofia elicited a lot of different feelings from me as I read. At times I was frustrated with her and the situations she put herself into without seeming to think…especially when she had an inkling of what kind of work D did. At other times though she was so brave and so strong. I loved how she was with D, how she accepted and really tried. Even when she'd had enough and felt for her to be whole she needed to move on, I felt admiration and hope for her. For both of them. When they were together I liked how they were. Sofia doesn't hold out, she's up front about the situation, and I really appreciated that. D is so used to hiding who he is it takes him a while to open up even a little to Sofia, and when he does she really listens to him. I could easily feel what she was feeling.
The black ops suspenseful plot was for the most part believable, something I felt like could happen. Sofia inserting herself into the middle of it all and how she got there made things a little less believable.
I enjoyed seeing the secondary characters in Midnight Revenge, and there is a strong secondary plot involving Sullivan and Liam who we have seen in previous Killer Instincts books. I hope their story is next! Midnight Revenge is part of a series, and I recommend the whole series to get a good understanding of all of the secondary characters, but I do believe it can also be enjoyed on its own.
Very well paced, Midnight Revenge quickly caught my attention and held it. I'd recommend Midnight Revenge to any romantic suspense reader!
Book Info:

February 2nd 2016 by Signet
Out of all the stone-cold mercenaries in Jim Morgan's black ops organization, Derek "D" Pratt is the most intimidating. He is tight-lipped and covered in tattoos, and even the other guys on his team are afraid to ask him about his past. D's been off the grid for years, but after his teammate Sullivan is mistakenly captured in his place, D is forced to come out of hiding and face his demons.
When D lands in Mexico, he's ready to risk everything to save his friend. To complicate matters, Sofia Amaro, a feisty doctor whom D had a one-night stand with months ago, has tracked him down. And in an instant she's unintentionally caught up in his life-threatening rescue mission.
Now D must extract not one but two people from the most violent world he's ever encountered. And one of them is carrying his child…