In Millionaire under the Mistletoe by Stephanie London, Stella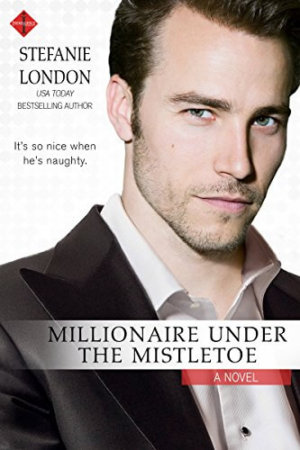 Jackson is determined to honor her grandfather's dying wish, even though spending a month in England during winter is not her idea of a good time. Even worse, she'll have to spend time with the gorgeous Evan Foss, a man she shares a rather rocky past with. Can she get over what happened between them in the past to give him a second chance?
"I bet you can't convince me to move to England," she said, her lips pulling into a smug smile.
Well, f***.
"That's right." She tapped a finger to her lips. "If you can convince me that England would make a better home for me than Australia by Christmas Day, I'll agree to sell the estate to you."
"You play dirty, Ms. Jackson."
Evan Foss doesn't know how he's going to convince Stella to sell her family's estate to him, especially when she's not real receptive the first time he tries to talk business with her. So, he decides to try something a little unconventional and challenges her to a bet. The odds of winning are tough with what she's asked of him for him to win the bet, but he's not afraid to use whatever means necessary to be the victor. Yet, what starts out as a little healthy competition becomes so much more. Can he convince Stella to give him another chance?
I always enjoy reading Ms. London's books, and this story which encompasses both the enemy to lovers and second chance romance tropes was a real page turner. From start to finish, this story had me hooked by the heroine's dilemma. She's not looking forward to spending time in a location she considers cold, wet and unlike what she's used to. However, it was the moment Stella came face-to-face with Evan again since she last saw him that had me turning the pages quickly, wanting to know why she had so much animosity towards him. What did he do? Will she be able to forgive him?
A bitter laugh rumbled in her throat. "The fact that you're not denying your lack of trustworthiness says a lot."
"That's not true. I simply know better than to try to change those types of opinions overnight. Hence, I'm planning to be here for the month."
"You'll need a hell of a lot more than a month to change my mind, Evan." Her lips twisted. "The Ten Commandments were less set in stone than my opinion of you."
"That's okay. I've beaten worse odds."
The dialogue was well-written and very entertaining due to their back stories and their rocky history that left Stella embarrassed. What was so wrong with her that he couldn't give in to what they both wanted? There are a lot of factors that have made her more cautious to get involved with someone. What Evan did to her in the past that left her humiliated; her ex-fiancée only wanting one thing from her, which unfortunately wasn't to be with her for her; and then there's the fact that she's never witnessed a healthy relationship. The woman who raised her only uses men for what they can do for her in keeping her in the lifestyle she's accustomed to.
Stella was a fantastic heroine. She has serious trust issues because of her past, and the decisions she makes throughout this story aren't easy for her. Can she trust Evan enough to give him a chance? What will she do with the Estate, if Evan doesn't win the bet? Honestly, there were moments where I could sympathize with her reasons for not trusting anyone, especially after what her ex did and how the woman who raised her treated her. However, in saying that, there were moments where she let her guard down. She was downright playful when it came to the romantic moments, especially with the way Evan teased her with his suggestions.
While Evan, he didn't surprise me with his ambitiousness and confidence. Traits that a self-made millionaire would need to become successful. Does he have ulterior motives when it comes to convincing Stella to sell him her family's estate? What would he do to make her receptive to his plans? Would he use any means necessary such as the strong chemistry between them to entice her? Stella is a challenge he will do anything to win over, and I liked that he was open and honest with her when it came to his opinion on relationships and the truth about the past. Because the heroine needed to realize that what he did wasn't for the reasons she suspected.
Overall, Ms. London has penned a worthwhile read where the strong romance did justice to the main characters chemistry. In the way, it spilled over onto the pages hot and passionately. As if Evan and Stella were meant to be, no matter how much either denied that they didn't want a relationship. The way this story ended took my completely by surprise with what Stella learns about her parentage. No wonder she felt so alienated from the woman who raised her until she learns the secret her grandfather kept from her.
"If you tell me that was a C for originality I'll be crushed."
"A-plus all around," she said with a grin. "You're a good student."
"I have a good teacher."
However, what I liked most about the ending was Evan's apology to Stella and what he did to prove how much he loves her. Then there's the epilogue that wraps this story up nicely because of what Evan did to show Stella how much her grandfather meant to the both of them and then by the way he surprised her with a certain question. I would recommend Millionaire under the Mistletoe by Stephanie London, if you enjoy Christmas themed books, the enemy to lover's trope or second chance romances.

Book Info:

Publication: November 14th, 2016 | Entangled Publishing |
Stella Jackson would rather stab herself in the eye with her own stiletto than return to England. Especially in winter. But to fulfill her grandfather's last wish, she has to spend Christmas at the estate she inherited from him…with the one man she wishes she could forget.
Self-made millionaire Evan Foss wants one thing from Stella–her estate. But thanks to their rocky past, he's the last person she'll sell to. So when she takes him up on a bet, with the estate as the prize, Evan can't believe his luck. The only problem is that seeing her now, sexy and all grown up, tempts Evan to finish what started years ago between them.