In Miracle on Kaimotu Island by Marion Lennox, Ginny Koestrel returns to Kaimotu island with her step daughter in tow. Button has Down's syndrome and is the result of an affair her dead husband had with his boss's wife. After her biological mother abandoned her, Ginny became Button's mother in every sense. To start her life afresh after her husband's death she comes back to Kaimotu with Button.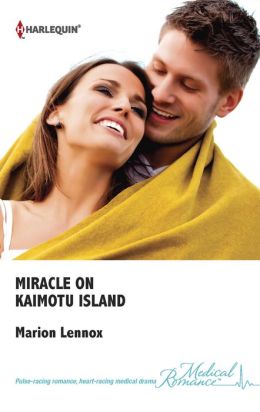 Ben always had feelings for Ginny and wanted to marry her once but destiny had other plans for them. Now that she is back, Ben wants to help Ginny rebuild her life once again but he is also afraid to fall in love with her all over again. Ginny too has many issues to resolve and is afraid to open her heart once again. Can an unfortunate earthquake bring them back together again..??
'I…I need to go,' she faltered, and he didn't move towards her and God
only knew the effort it cost him not to.
'Yes, you do.'
'Ben…'
'Don't say anything more,' he said softly. 'You've done brilliantly
tonight. I love what you're doing with Button—we all do. One step at a time,
our Ginny, that's all we ask.'
He tugged open the door of her car and watched as she climbed in.
He didn't touch her and it almost killed him.
'Goodnight, Ginny,' he said softly, and she didn't say a thing in reply.
He stood back as she did up her seat belt, as she started the engine, as she
drove away, and he thought…
She looks haunted.
Not by him, he thought. She needed time.
He would give her time. Except for emergencies. Even knowing she was
on the island, another doctor…
Who was he kidding? Even knowing she was on the island…his Ginny.
He would give her time. He had to.
Marion Lennox is an amazing writer and she makes you enjoy every scene with her awesome writing. The book also had a very solid plot and storyline. Although I liked Ginny, I could not relate to her much,maybe because she was too perfect in just about everything and did not have any relatable qualities. She had issues but that was understandable given her past with her husband and father. Ben was a good hero overall and I liked him because he was very caring and generous. I like the inclusion of children as a part main character in novels and therefore I loved Ginny's step daughter but sometimes the story was too much focussed on her.
It was a good story and kept me intrested till the end but did not have enough romance and medical elements to be called a medical romance. Overall, Miracle on Kaimotu Island by Marion Lennox is a good book with solid writing, good characters and a well constructed plot.
Book Info:

Published August 2013 by Harlequin Medical Romance
A man to heal her…
He wanted to marry her once, but right now Ben McMahon needs another doctor—and recently returned Ginny Koestrel is the only one around.
Life, however, has kicked the lovely Ginny and taken away her confidence as a doctor. The only thing she clings to is her adorable stepdaughter, Button. Ben wants to help Ginny rebuild her life, but he might fall for her all over again. Will it take an earthquake to bring them back together?(