Emma Hart's Mixed Up is fan-freaking-tastic! If you love a hilarious and sexy romance with witty and sarcastic banter, endearing and crazy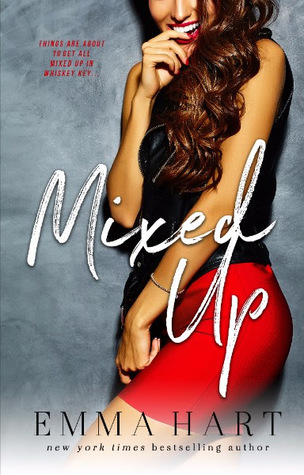 families and a sigh-worthy love story, then you have found your next must-read. Although Mixed Up is not part of a series, characters connect it with Ms. Hart's Casanova, which is also a phenomenal read and shouldn't be missed.
Raven and Parker have known – and hated – each other for more than twenty years. Although they grew up as next-door neighbors and their mothers are best friends AND Parker is Raven's brother's best friend, they have never gotten along. Each has always rubbed the other the wrong way, and both find joy in pushing the other's buttons and driving each other crazy.
Raven and Parker left the Florida Keys a few years ago. Parker became a top-rated chef in New York, while Raven became a mixologist and opened a bar named Dirty in nearby Whiskey Key. They have not seen each other in over three years when Parker returns home for the summer before moving on to his next big restaurant gig.
Sparks fly – and I mean fly – when Raven and Parker see each other again, and their frenemies relationship picks up right where it left off. Their snarky banter is epic as they continually volley barbs back and forth, but things begin to change when Raven needs Parker help to design a menu and establish food service for Dirty. They begin to see each other in a new and unexpected light when they begin working together, and their verbal hostility becomes a smoke screen for the mutual desire that has ignited between them. Neither knows what to do with these new feelings or how to handle them considering their closely connected families.
Speaking of families, Ms. Hart's books almost always include a large dose of family, and she creates some of the most enigmatic and wonderful secondary characters that give her stories an added depth and amplify the entertainment. I can't even express how much I loved Raven's Greek family as they descend on Dirty and Whiskey Key for a family reunion or how much I loved the dynamic between Raven and Parker's moms. Their addition makes Mixed Up a truly memorable read.
Of course, Raven and Parker's love story is the heart of this romance, and they have an electrifying dynamic. Their exchanges are some of the best I have ever read, and I think Raven might be my new book-sister while Parker is my new book-boyfriend. (Is that weird that I just stole Parker from my sister?) They are both relatable and likable characters, and their journey from frenemies to lovers is fun, sexy and heartfelt. Raven is strong and determined as she pours her soul into Dirty, and she mixes what sounds like amazing cocktails with hilarious (and dirty) names. Mixed Up is the perfect blend of family, romance, sex, and sass.
Book Info:

Publication: 4/18/17 | Self-Published – Emma Hart |
Dirty cocktails, deadly enemies with a red-hot attraction, and one big, crazy, Greek family–what could possibly go wrong?
Hiring my brother's best friend was not on my to-do list.
Neither was he.
Expanding my dirty cocktail bar into food was supposed to be easy, except finding a chef in my little town of Whiskey Key is anything but.
Until Parker Hamilton comes home–bringing his Michelin starred chef's hat with him.
He has no work. I need someone like him in my new kitchen.
There's just one problem: I hate his cocky, filthy-mouthed, sexy-as-hell guts.
Even if I might want him. Just a little…
Working for my best friend's sister? Not on my to-do list.
She's another story.
Whiskey Key was supposed to be a relaxing vacation, except I haven't reached the heights I have by lying in a hammock drinking cocktails. So when Raven Archer is desperate for a chef, I offer up my skills.
I'm bored. She needs what I can give her.
Except there's a problem: I've always hated her.
Her and her big, blue eyes, sassy mouth, and killer curves.
If only I didn't want her.