In Monsters: A Love Story by Liz Kay, Poet and widow Stacey Lane is a bit surprised when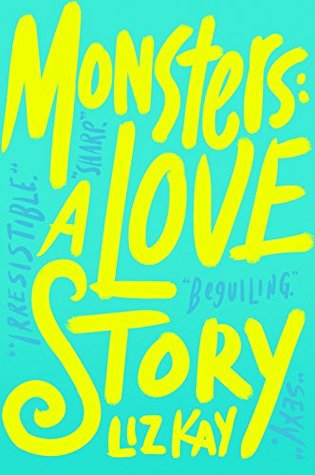 her book is optioned for a movie. Not only was it not a bestseller, but she finds out that Hollywood superstar Tommy DeMarco is the one who decided to turn it into a big budget film. Stacey soon embarks on a whirlwind journey that has her leaving her two young boys at home in Nebraska, still grieving over the loss of their father, while she rubs shoulders with Hollywood elite.
"I'm not going to bed with you," I say.
He holds my hips in his hands, presses me down against him. "I think it's cute when you talk that way."
"I'm serious, Tommy. I'm seeing someone."
"It's cool, baby. I'm seeing lots of people, but I save all my best shit for you."
It becomes clear to Stacey right away that everyone plays games in L.A. And to make her opinions about the movie known, she has to learn to do the same. Tommy is the one person that she feels like she can be herself around, although he's such a good actor, one can never tell what his true feelings are. As Stacey and Tommy's non-relationship gets more complicated, she meets a nice man, a doctor who lives near her home, and has to eventually make a decision. Can she see herself with the guy who knows and understands her grief, anger and penchant for alcohol? Or with the sweet guy who is a safe bet?
"I know you don't want to hear this, but it's not fair for you to show up for a week and play house or whatever this thing is that you and Tommy do. I don't care how secretive you think you are, this affects more than just you."
Monsters: A Love Story is pretty accurately named. The two main characters were about as messed up emotionally as one could expect from a control freak widow and a Hollywood playboy. And pairing them together was like a train wreck just waiting to happen.
It's rather difficult to explain this narrative, at least for me. I waffled a bit on the rating and it took a while to gather up my thoughts about it. I can say that I did like the format of the book itself, with it broken down into months and seeing things from Stacey's POV. It was almost like a diary at some points and I think it worked well here. The style of writing Liz Kay used flowed nicely and believe me, she held nothing back as far as showing the true gritty feelings Stacey and others around her were experiencing. It was raw and rather brutal at times. But it was honest and I appreciated that.
I think what set me back was Stacey's almost harsh personality and her control issues. I know that this was meant to be an intense look at her and her main love interest, Tommy, not being at their best, both of them struggling to get their personal lives under control. Issues we all face. However, it just seemed like the bulk of their scenes together were filled with drinking, arguing, having sex, drinking and arguing again. It was highly entertaining, I'll give you that. But Tommy and Stacey were like narcissistic co-dependent teenagers at times, with neither one of them wanting to define their relationship and fully commit.
There was also a love triangle as part of the storyline between Tommy, Stacey, and Phillip, a local doctor in Nebraska. This tangled web definitely spoke of her inability to fully commit and, I thought, to take the other people's feelings into account. It kind of felt like she wanted the best of both worlds–which just wasn't going to happen. Stacey's other struggle was with her grief over her husband's death. Or really, it was more about how the children were dealing with it. She did pretty well trying not to upset her boys and to help them through their loss but as she traveled so extensively for the movie, sadly even that went off the rails.
Even though Stacey was a tough cookie for me to empathize with, her volatile relationships and difficult journey was an interesting one to read about. I would definitely be willing to read more by Liz Kay, given the strong reaction she got out of me with this debut novel.
Book Info:

Publication: June 7th 2016 | G.P. Putnam's Sons |
A cracklingly funny and poignant debut novel about the ways we love, even when we're not at our best.
Stacey Lane feels like a monster. Tommy DeMarco is one.
Since her husband died eight months ago, Stacey's been a certified mess—a poet who can't write anymore, a good mother who feels like she's failing her kids. She's been trying to redefine herself, to find new boundaries.
Tommy has no respect for boundaries. A surprisingly well-read, A-list Hollywood star, Tommy's fallen in love with Stacey's novel-in-verse—a feminist reimagining of Frankenstein, no less. His passion for the book, and eventually its author, will set their lives on a collision course. They'll make a movie, make each other crazy, and make love—but only in secret. And all with a vodka—or wine, or scotch—in hand.
As Stacey travels between her humdrum life in the suburbs of Omaha and the glamorous but fleeting escape Tommy provides, what begins as a distracting affair starts to pick up weight. It's a weight that unbalances Stacey's already unsteady life but offers new depth to Tommy's. About desire, love, grief, parenthood, sexual politics, and gender, Monsters: A Love Story is a witty portrait of a relationship gone off the rails, and two people that are made for each other—even if they're not so sure they see it that way.