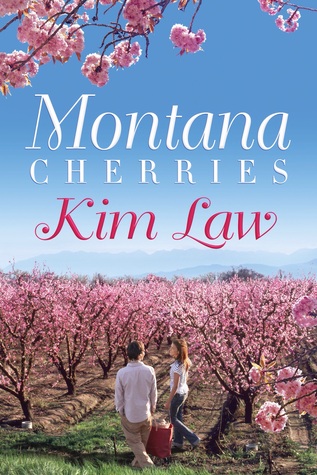 Montana Cherries by Kim Law  is a story about family secrets, healing and friends to lovers. It is a story about following your dreams and finding yourself. This story has breath taking locations and the humor of children. It has a HEA sweeter than fresh cherries off the trees. This is the story of Dani and Ben.
Dani's mother passed away 18 months after she moved to Columbia University as a freshmen. Giving up her dreams to come home and raise her younger siblings and help her father with the family cherry farm, Dani only wanted to fullfil her mothers dying request that if anything every happened to her, that she would take care of the family. Now with all of her brothers grown, Dani is ready to try to recapture her dream of movng to New York City. When an unexpected friend and one time lover Ben shows up in her family home with a 4 year old daughter in tow. Dani begins to question everything that she once thought she wanted.
Ben is a world famous photographer, son of a celebrity mother, and has recently found himself a single father to a 4 year old that he never knew exisited. Determained to give Hailey the best life possible, he heads for the one place that has always brought him comfort, Montana and the Wilde family farm. What Ben does not count on is that the feelings that he once had for the beautiful, caring, troubled Dani to hit him full force, or that he would want to do anything in his power to love, protect and support her, wanting nothing more than to keep her with him forever.
What I loved most about Dani and Ben is that they are so very much alike. Dani's mother never truly loved her or her brother, rather pitted them against each other and took her anger out on Dani more than anyone. Ben only knew true love when he was a young boy living with his grandparents, His mother did not know how to show love and affection, and although she did her best, Ben is not sure he even knows what real love is.
The interaction between Ben and his young daughter is so heart warming. At first neither know how to act around each other, but as the story progresses and with the help of Dani, these two brused souls find their way. The topics in this story are heavy, but the author delt with them beautifully, showing a glimps into the world of mental illness and the toll it takes on a family. I truly enjoyed this story and the characters endeared themselves to the reader. I recommend this wonderful story to anyone that truly believes that love and faith can help you heal. I give this wonderful story 4 special stars.

Book Info:

 July 28th 2015 | Montlake Romance |
After her mother's tragic death, Dani Wilde had no choice but to abandon her dreams. She left Columbia University and returned to her family's Montana cherry farm, intent on being a maternal figure to her brothers. Now the kids are grown, and it's finally her time to fly. Her sights are on New York City, and nothing will stop her—not even an old flame with gorgeous green eyes.
Celebrity photographer Ben Denton hasn't seen Montana in years—and hasn't spoken to Dani since "that night" so long ago. When he discovers he's a dad to a four-year-old—and the child's mother refuses to care for her—Montana and the Wilde farm spring to mind. The orchard is the only place that's ever felt like home, but will the warmth of the Wilde family be enough to help Ben figure out how to be a father?
As the Wilde family gathers for the yearly cherry harvest and Dani struggles to figure out what she really wants in life, she discovers the shocking truth about her own mother—and learns that following her heart may lead her to her dreams after all.