In Moon Rising by Lori Devoti, CeCe Parks is a werewolf who feels like an outsider in her own pack. When her alpha gives her an assignment to prove her worth, she steps up to find the stolen treasure in Cave Vista. Then others around her begin to come up missing or killed. CeCe isn't sure if it's the lone vampire, Marc, she ran into in town or if there are others who also are looking for the treasure. One thing CeCe knows for sure is that she should not be drawn to Marc the way she is. It's not natural. But she can't stop falling for him and it only creates more tension between her and the pack while on her search.
'…she was ready for her date with a vampire. A vampire whom members of her pack were on their way to kill, or at least frame with a crime.'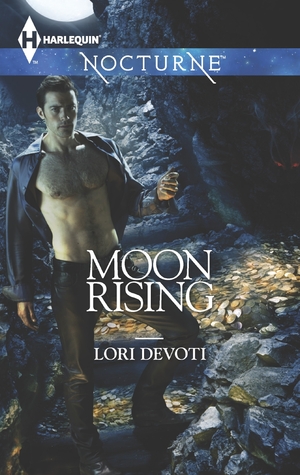 Marc Delacroix has been through a lot in his two hundred years, including a war between vampires and werewolves. Therefore when he meets CeCe and finds her somehow captivating, he is utterly confused. She's untrusting of his kind, and probably justifiably so, but Marc follows her to ensure she's safe with the strange events happening in town. It isn't clear who is behind the problems so Marc is determined to find out, hopefully with CeCe's cooperation and assistance. But as they follow the clues, they may just be getting involved in more than they bargained for.
'Her eyes were hollow and confused. Filled with the same uncertainty that Marc knew filled his. Their world had just changed, maybe forever.'
Moon Rising is the story of CeCe and Marc who by all accounts should not fall in love. Werewolves and vampires should be sworn enemies, but in their case they struggle more with their own kind than with each other.
I was impressed by how clearly Marc and CeCe's struggle came through in Lori's writing style. They fought their attraction to each other, even though it was no use, and I could feel that tension in their scenes together. Their romance was both wild and tender, their connection was that strong. And even though their love scenes were explained in detail, it wasn't explicit, but done in a sexy but tasteful manner.
The other struggle CeCe and Marc encountered was with their own species which always makes for a very complex and interesting plot. Marc has been around long enough to get a sense of who to trust and when something isn't right. The situation in Cave Vista screams of a traitor among either the werewolves or vampires but he can't be sure which. CeCe on the other hand is fighting against her knowledge base and what she's been taught. Pack mentality usually rules but she second guesses the alpha which is unheard of. It was nice to see a female character stand up and think for herself, taking action based on her own views in this type of situation.
Moon Rising is action packed with a nice plotline. I think fans of paranormal romance will enjoy this new novel by the very talented Lori Devoti.
Book Info:

Published January 7th 2014 by Harlequin
Can a loner vampire and outcast wolf find love in Lori Devoti's Moon Rising?
The discovery of lost treasure imperils the fragile peace between the vampire and werewolf populations. Especially when werewolf Cece Parks and vampire Marc Delacroix arrive at the remote site with the same agenda—to claim the loot. But when suspicious deaths begin occurring, the enemies must band together to solve the mystery.
The truth proves far more complicated than either can imagine. Especially when Marc finds himself inexplicably drawn to Cece. For once in his long life he wants nothing more than to be with—and protect—the werewolf. Now loyalty to his race and his forbidden desire are about to collide…