Moondance Beach by Susan Donovan: Duncan escaped Bayberry Island the moment he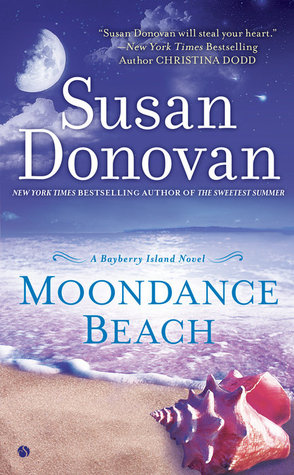 could to pursue his dream of being a Navy SEAL. He's accomplished that goal and is driven to be the best teammate he could be. He's forced to visit the island during the Mermaid Festival for longer than usual since he's recovering from his injuries in the war.
Lena was Duncan's shadow while they were growing up on the island. She's seen past his gruff demeanor and they became unlikely friends. For the longest time, Lena has been in love with him from afar. When he left, Lena had to re-group and pursue her love of art. She's since become a famous artist and well-known for her mermaid pieces.
Duncan has always hated the mermaid legend and it was one reason he was so determined to leave in the first place. He doesn't believe in magic, whereas Lena does. Lena is relieved that Duncan is back home and she's hoping that this time, he will finally notice and pursue her.
"The good news is, you're less of an ass nowadays."
Duncan put his head back and laughed. Hard. It took him a moment to stop laughing. "That was the nicest backhanded compliment anyone has paid me in a very long time."
She shrugged. "I only said it because it's true."
With Duncan's forced extended stay, they have a chance to reconnect and rediscover their connection. He is drawn to her and she brings out another side of him. Lena is exactly who he needs to help deal with the emotional scars from the war. He's reluctant to pursue a relationship since he's made it his goal to be medically cleared and get back into action.
Moondance Beach is an entertaining small town contemporary romance with a hint of magic. Susan Donovan highlights key moments from their past and weaves them into the present. Ms. Donovan created an entertaining cast of secondary characters, especially Duncan's family and members of the Mermaid Society. Fans of Janet Chapman will enjoy Moondance Beach.

Book Info:

Published September 1st 2015 | Signet | Bayberry Island #3
In the latest Bayberry Island romance from New York Times bestselling author of The Sweetest Summer, it might take more than a magical mermaid statue to bring together a hard-headed Navy SEAL and the mysterious artist who's loved him from afar….
Duncan Flynn long ago said goodbye to his hometown of Bayberry Island, Massachusetts, where a mermaid statue allegedly grants true love to the pure at heart. So when the injured Navy SEAL gets sent home—just in time to help his family prepare for the annual Mermaid Festival—he's not in the mood to celebrate. Nor fall in love. But during a night run on the beach, a magnificently naked woman emerges from the surf who bears an uncanny resemblance to the mermaid in Fountain Square.
Adelena Silva's otherworldly mermaid paintings have made her famous and wealthy, but Lena herself is a recluse—at least until Duncan Flynn comes home. She's secretly loved him her whole life, and is determined not to let him get away again. But will revealing her truth win his heart, or cause Lena to lose him?