More Than a Feeling by Erika Kelly: Cooper has always felt like he was just a little apart from everyone and everything. He loves his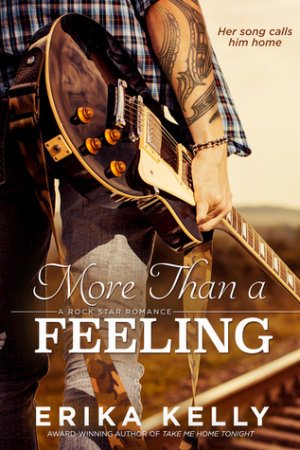 bandmates like brothers, but he doesn't feel like a true member of the band. So, he jumps at the chance to find a new opening act for the rest of their tour during their break. He was looking forward to spending the time off hanging out with the band and proving himself, but he takes an unexpected trip to the small town where he grew up in Montana instead.
Daisy is just about at her wits end. She's the sweet, sassy, dedicated, and loyal manager of the only lodging in town. She's been working to make sure that the planned music festival will bring in tourists and some much needed investors in order to make the renovations and upgrades needed to keep the lodge from going under.
There's no love lost for Cooper when it comes to his hometown. Apart from music and his best friend Daisy, he has virtually no good memories of his hometown. Seeing Daisy again is like a punch to the gut. He always wanted her, but knew she deserved better then him. Now Cooper is the one man who has the name recognition and talent to save the festival, and by extension the lodge.
"Nope. I want to help with the project."
The sparkle in her eyes let him know she had something up her sleeve. "That's…nice of you."
"Not really." She gave him a mischievous grin. "Cooper Hood, I have a proposition for you."
Daisy is persistent about getting Cooper to reconnect with his hometown. Their chemistry is stronger now than in high school and she isn't shy about her feelings. They work closely together on the festival while Cooper has a chance to revisit his past. They can't fight their feelings during what little time for Cooper has before finishing up the tour.
"I appreciate the whole badass rocker vibe. Believe me, I do. But, boy, you don't give anything away." Her thumb hit the keypad to unlock her car. "It's all I can do to keep from climbing onto your lap and licking your tattoos, and you're cool as a cucumber." Just as she stepped off the curb, he grabbed her upper arm.
"Daze."
"Yeah?"
"Which ones?"
More Than a Feeling had me hooked from the very beginning with the perfect blend of romance, family, drama, and healing. Erika Kelly doesn't miss a beat with this friends to lovers romance as she ends the series on a high note. Ms. Kelly continued to develop great characters you would like to meet. Fans of Katie Ashley, Laura Drewry, and Jenna Sutton will enjoy More Than a Feeling.
Book Info:

Publication: April 4th 2017 | EK Publishing, LLC | Rock Star Romance #4
From the award-winning author of TAKE ME HOME TONIGHT comes the final story in her red-hot Rock Star Romance series, about a loner rocker finding his perfect duet.
When Cooper Hood left Snowberry, Montana ten years ago, he swore he'd never go back to the town that painted him with the same brush as his addict mother. But right in the middle of his band's national tour he gets a call to come home: his mom's got a whopper of a secret to reveal.
Daisy Charbonneau's in trouble. The talent she hired for her resort's annual Huckleberry Festival's just bailed on her, and she's desperate to find a replacement act. Luck turns her way when she discovers her high school crush is back in town—and he happens to be a rock star.
As they work together, a crush deepens into so much more—but who falls in love in two weeks?
Especially when Cooper's never coming back to town, and Daisy's never going to leave it.