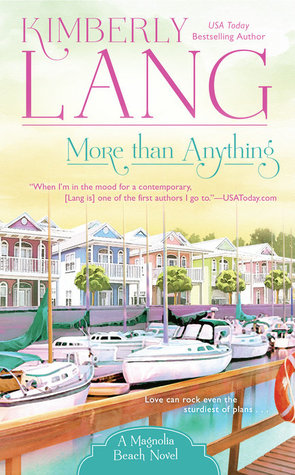 More Than Anything by Kimberly Lang: Shelby runs the marina with determination and family pride. She knows what she's doing, if only the town and her family would ever let go of the past and trust in her judgment. It's hard enough to be a female in a male-dominated world, and she's more than sick of hearing that she shouldn't or can't handle something due to her gender. She's smarter than she gives herself credit for.
Declan needed to get out of Chicago after a bad breakup, but he has a few months before his new job in the glamorous Miami officially starts. He jumps at the chance to live on board a boat in Magnolia Beach to escape the chilly Chicago winters. He's enjoying the chance to get caught up on the TV shows, movies, and books he missed between his job and relationship.
Declan had no plans to get caught up in the nosiness that comes with a small town. He planned to either take trips to explore the architecture in the South or keep to the boat. Which mostly served him well, until he was subjected to a prank that leaves him floating away and leads to an interesting first meeting with Shelby. She's not exactly impressed with a recluse who has no sense to learn boating safety.
"I told you this town runs on gossip. It's better not to give people things to talk about."
Another point in favor of the anonymity of the city over a small town. "That's a bad way to live your life."
"It keeps us out of trouble, though."
"Are you saying I'm trouble?"
Shelby is outspoken and not afraid to challenge Declan after they finally met. She forces him to rethink some things, including the viability of remaining so secluded for the time he has left in Magnolia Beach. They become friends after some prodding by Shelby. She makes him laugh and both enjoy their banter. They also have chemistry that is worth exploring despite the expiration date on Declan's time in Magnolia Beach.
Her cheeks turned pink. "Are you flirting with me?"
"You're just now figuring that out? I must be terrible at it."
"Maybe I just don't get Yankee-style flirting."
"First of all, I'm not a Yankee. I'm from Michigan."
More Than Anything is a sweet and charming romance. Kimberly Lang created interesting characters who are looking for more in their lives. Ms. Lang continues to provide a wonderful cast of secondary characters whom you enjoy revisiting with each book in the Magnolia Beach series. Fans of LuAnn McLane and Elizabeth Hayley will enjoy More Than Anything.
Book Info:

 Expected publication: December 6th 2016 | Berkley | Magnolia Beach #3
From the USA Today bestselling author of Everything at Last comes the third in the "delightful"* Magnolia Beach series, a tale of two hearts adrift finding love in the most unlikely of situations…
The small, waterfront town of Magnolia Beach, Alabama, gets its fair share of tourists breezing in and out, but one handsome visitor might just be tempted to stay…
Running the Bay Breeze marina means Shelby Tanner is used to fielding strange requests from vacationers, but she is still less than amused when she gets a call in the middle of the night to rescue a boat stranded nearby. The clueless sailor is infuriatingly inexperienced—yet also frustratingly attractive.
Architect Declan Hyde only planned on stopping in Alabama briefly on his move from Chicago to Miami, but Magnolia Beach is proving to be more captivating than he imagined. For one thing, there's the sweet, Southern charm. For another, there's the stunning tomboy who rescued him from the bay and keeps invading his thoughts.
As the time draws near for Declan to weigh anchor, he begins to realize that Shelby may have saved more than his boat that night—and leaving Magnolia Beach might set his lonely heart permanently adrift…