Mountain Ambush by Hope White, starts off right away living up to its' genre, when Dr. Kyle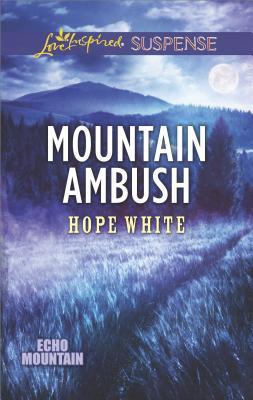 Spencer is assaulted while trying to save a former patient. He is saved by a local EMT, Maddie, however then both become the target of a sinister assassin. An assassin who continues to dog them throughout the novel.
Each time Dr. Spencer and Maddie believe they are safe, feel they have gotten two steps ahead, the assassin finds them and their lies are yet again at risk. They must race against the clock to find out who is behind repeated attempts on their lives, and to see if this is linked to whomever is dealing with drugs and bringing drugs into Echo Mountain. When Dr. Spencer's reputation at the hospital becomes at risk, he must find out who is trying to discredit him and how this is part of the entire picture.
While all of this is taking place, Maddie and Dr. Spencer attempt to fight a growing attraction to each other, as both have ghosts from their past that have them believing they are not meant for marriage. Can they find a way to come together? Can they outsmart a sinister killer? And what happens when the mastermind of these attempts on their lives turns out to be someone they never would have suspected?! For fans of romance and suspense, I heartily recommend this novel as a strong combination!

Book Info:

Publication: January 3, 2017 | Love Inspired Suspense | Echo Mountain #6
A search-and-rescue mission turns deadly when Dr. Kyle Spencer is nearly killed by an assailant in the mountains. And when EMT Maddie McBride saves the doctor just in time, they're both targeted but no one knows why. One thing's clear, though from the moment Maddie finds Echo Mountain's most eligible bachelor left for dead, she can't stop thinking about him. But she's always been wary of the town's Dr. Dreamboat. And Spence's scarred heart's been shuttered since a childhood tragedy. As someone stalks the injured doctor's every move, though, Spence realizes that he needs the determined Maddie in his corner. However, he can't be sure their partnership will be enough to save them especially against a seemingly all-knowing foe who's got them both in his deadly sights.