In Mr. Miracle (Angelic Intervention #10) by Debbie Macomber, Harry Mills is a guardian angel sent to Earth on a mission to help humans follow the right path to happiness,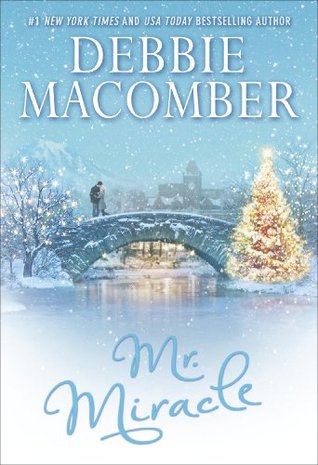 contentment and love. But being human is a lot more difficult than he initially thought. It's a good thing Harry has Celeste, a fellow guardian angel posing as a human, to guide him on his quest. Helping Addie Folsom let go of her stubborn pride and move forward with her life will prove to be one of the most challenging, but rewarding, things Harry has ever had the privilege of experiencing. That is, if he can stay out of trouble while teaching a literature class at the local community college, fending off the advances of the French teacher, and staying on the good side of the college's smarmy president.
'He'd been sent to Earth to help humans. Now he was badly in need of heaven's help.'
Addie Folsom's trek home this Christmas is bittersweet. Not only is this the first holiday since her father passed away, but she's moving home for good after having no luck living on her own the past six years. Addie's Christmas plans are thrown into a tailspin when she learns her mother and their neighbor Mrs. Simmons have already arranged their own holiday plans. This leaves Addie to muddle through with her college class while spending Christmas alone. An unexpected situation throws her and her brother's childhood best friend, Erich, together. She may have had a crush on him years ago but he made her life miserable during her teen years. Certainly he couldn't have changed that much after all these years…could he?
"Darn. I was sort of hoping you'd want to argue."
"You were?"
"Yes." He looked down and smiled at her. "Then we could kiss and make up."
"Are you looking for excuses to kiss me again?" she teased.
He lifted his thick eyebrows with the question. "You interested?"
"Could be."
Mr. Miracle is a sweet Christmas story where a guardian angel learns the difficulties of navigating human emotion while helping a deserving young woman find her way in life.
Debbie Macomber is a master in creating tender, emotional stories that make me want to swoon after the hero and cheer on the heroine. In this book, I enjoyed watching Harry as he realized that observing humans from Heaven wasn't the same as being on Earth in human form and having to decipher all the strange new feelings he experiences. I liked the fact that Harry wasn't perfect while he was struggling to do the right thing. It made what could have been an omnipotent character feel much more relatable and, well, human.
So not only was this a holiday story, but this was also a "crushing on her brother's best friend" trope. Addie thought she had moved past her feelings for Erich after the poor way he treated her when they were younger, but playing caregiver to him brought that all rushing back. I thought that even though this was a fairly quick, lighthearted story, Addie and Erich's transition from not getting along, to tentative friends, to something more felt like it was a natural progression. It didn't seem forced. I also thought the little bits of humor when they were bantering (especially about the mistletoe) was a lot of fun and helped perk up the dialogue, moving it away from Erich's injury.
If you're looking for a quick but very enjoyable Christmas love story, Mr. Miracle is sure to fill you with hope this holiday season. And be on the lookout for the debut of the holiday movie version of this book on the Hallmark Channel in December 2014. Enjoy!
Book Info:

Published October 7th 2014 by Ballantine Books | (Angelic Intervention #10)
Beloved #1 New York Times bestselling author Debbie Macomber celebrates the most wonderful time of the year in this heartwarming Christmas novel of romance, hope, and the comforts of home—coming soon as a Hallmark Channel original movie!
Harry Mills is a guardian angel on a mission: help twenty-four-year-old Addie Folsom get her life back on track—and, if the right moment strikes, help her find love. Posing as a teacher at a local college in Tacoma, Washington, Harry is up to the task, but not even he can predict the surprises that lay in store.
After trying to make it on her own, Addie has returned home to Tacoma for the holidays, but this time she plans to stay for good, enrolling in the local community college to earn her degree. What she doesn't plan to do is run into Erich Simmons.
Addie and her next-door neighbor, Erich, are like night and day. Growing up, he was popular and outgoing while she was rebellious and headstrong, and he never missed an opportunity to tease her. Now she intends to avoid him entirely, yet when they're suddenly forced to spend Christmas together, Addie braces for trouble.
Perhaps it's the spirit of the season or the magic of mistletoe, but Addie and Erich soon find they have more in common than they thought—and that two people who seem so wrong for each other may actually be just right. With a little prompting from a certain angelic teacher, the two are in for a holiday miracle they'll never forget.