Mr. Right-Swipe by Ricki Schultz: Rae is smart and creative. She loves her job teaching, but she dreams of being a published author. She continues to work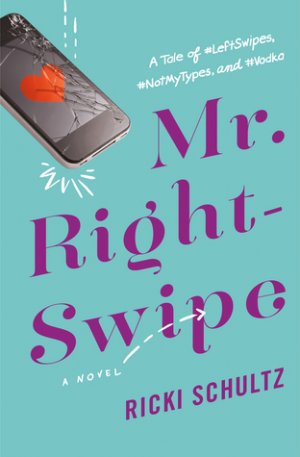 on her manuscript and contacting publishers despite the rejection letters. She's fortunate enough to work at the same school with her two best friends, Valerie and Quinn.
When Rae isn't working or hanging out with her besties, she's trying to find Mr. Right. Turns out that is harder than expected, especially after a divorce and her tendency to be quite picky about who she would go on a first date with much less who merits a second date. After the latest set-up fail, Quinn and Valerie intervene by getting Rae to try a dating app.
My ears perk. "I'm listening."
"You're gonna find love the twenty-first century way."
My chest tightens, and I direct my attention upward like I'm thinking. Bite at my bottom lip. "At Whole Foods?"
"Online."
Turns out that online dating isn't for the faint of heart. Rae is just as picky when it comes to viewing profiles and finds herself swiping left to discard potential matches more than she can bring herself to swipe right to match with someone. Quinn and Valerie insist on helping her find someone, especially as Quinn's wedding is quickly approaching.
"I'll let you swipe Right on five people, and if we match up, I'll meet them."
"Even if you would have vetoed them."
I sigh. "Yes. And you will see that these seemingly superficial details are actually indicators. I'll even be more lax in my swiping on my own. How's that?"
"What's the catch?"
Rae experiences the ups and downs of online dating before she finds someone who seems to be good in their profile and in person. In the meanwhile, Rae also happens to match with the hunky substitute teacher, Nick, at their school. Nick and Rae become friendly as he gives her advice on her matches and she struggles to think of him as only a friend. The pressure mounts for Rae to find her plus-one.
Mr. Right-Swipe is a tale of modern dating and starting over. Ricki Schultz blended an enduring friendship with drama, angst, anticipation, and romance. Ms. Schultz created an accurate portrayal of the perils of online dating. There were a few parts of the story that seemed to go too far and be overly dramatic. Fans of KC Dyer and Radhika Sanghani will enjoy Mr. Right-Swipe.

Book Info:

Publication: June 6th 2017 | Grand Central |
MR. RIGHT-SWIPE
Rae Wallace would rather drown in a vat of pinot greezh and be eaten by her own beagle than make another trip down the aisle–even if it is her best friend's wedding. She's too busy molding the minds of first graders and polishing that ol' novel in the drawer to waste time on any man, unless it's Jason Segel.
But when her be-fris stage an intervention, Rae is forced to give in. After all, they've hatched a plan to help her find love the 21st century way: online. She's skeptical of this electronic chlamydia catcher, but she's out to prove she hasn't been too picky with men.
However, when a familiar fella's profile pops up–the dangerously hot substitute teacher from work (Nick)–Rae swipes herself right into a new problem…