In Mr. Rook (Rook's Island #1) by Mimi Jean Pamfiloff, Stephanie Fitzgerald had never heard of Rook's Island when her older sister Cici won a trip to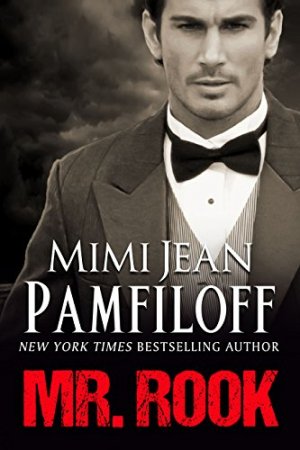 the tropical oasis, although she was happy to see her sister planning to have fun for once. But since Cici's shocking disappearance–no one has seen her since her arrival at the island–Stephanie has turned over every stone and followed every lead to locate her sister. And somehow all roads lead back to Rook's island as the place she needs to investigate further.
'This is dangerous. I couldn't have feelings for this man. Not when I still had no understanding of what I was dealing with or his involvement with Cici.'
Putting her own life on the line, Stephanie finds the means to be allowed on the super private, very expensive island, knowing she must track down the secretive Mr. Rook himself if she wants some answers. She has a plan to get the details of her sister's stay on the premises while convincing everyone she's just a guest. But Rook proves to be more of a distraction, a sexy one at that, who draws Stephanie in like no man ever has before. And while the other guests have their fantasies come true by enjoying scenes straight out of a romance novel, she'll have to do whatever it takes to secure her heart if she hopes to learn the truth and not fall for Rook.
Meg swiped her hand through the air…"I'm doing the princess trapped in a castle fantasy–there are knights who fight in suits of armor and everything."
"Sounds really hot."
"I knooooow. Right?"
I'd meant hot for the men to be wearing tin suits in this weather, but whatever.
Mr. Rook was a fast-paced sexy read, almost like Fantasy Island come to life. But with more intrigue, secrets, suspense and danger mixed in as our heroine's search for her sister took her deeper into the island–and our hero's–history.
'We were alike in many ways, though I sensed his demons were bigger and more demanding than mine.'
Oh, Mimi, Mimi, Mimi. What a terrific and wonderfully twisted author she is. Just like with everything I've read of her previous work, Mr. Rook had likable characters, lots of snarky goodness, and plots twists that will scramble your mind. And it's because of those plot twists that I'll have to be very careful what I mention here or I could spoil the surprises Stephanie learns about her host and the island itself along the way. I should mention that although this was not your typical cliffhanger, this book did leave off with a lot of questions still hanging in the balance. It was kind of a natural place for the first part of the story to stop, though, so I don't think it will bother readers too much.
Stephanie was quite the character. She was strong, independent, and willing to do anything it took to find out what happened to her beloved older sister Cici. She had quite a mouth on her sometimes, not afraid to tell it like it was, making me laugh outright in the process. I'll admit that even though I chuckled when she was giving the staff a really hard time in order to meet the mysterious Mr. Rook, I had to also cringe uncomfortably, having been on the receiving end of that type of behavior before myself. 😉 But, Stephanie went through a lot emotionally while on the island and I really liked that she was her own problem solver the whole time, wanting to get to the bottom of things on her own.
I can't say a lot about Mr. Rook, other than there were very good reasons for his enigmatic ways. He was definitely a very hot and cold guy, giving Stephanie an icy attitude sometimes and then melting her with his sexy stare other times. And even though we found out some of Rook's secrets in this first book, I know there must be so much more to uncover in the future. I'm also hoping at some point that we get a chapter or epilogue in Rook's POV. It would be interesting to see how he thinks of his island and of Stephanie.
A little bit dark and a whole lot steamy, Mr. Rook kept me on the edge of my seat right from the start. And with how this first installment ended, things are only going to get more complicated and exciting as Stephanie and Rook's journey continues.
Book Info:

Publication: June 13th 2017 | Mimi Boutique | Mr. Rook's Island #1
From NEW YORK TIMES Bestseller Mimi Jean Pamfiloff, Comes Part One of Mr. Rook's Island, a Sexy, Dark, Romantic Suspense.
~~~~~
He's Enigmatic, Dangerously Handsome, and COMPLETELY OFF-LIMITS…
The women who vacation on Mr. Rook's exclusive island are looking for one thing and one thing only: to have their wildest romantic fantasies come to life. Pirates, cowboys, billionaires–there's nothing Rook's staff can't deliver.
But when Stephanie Fitzgerald's sister doesn't return after her week in paradise, Stephanie will have to pose as a guest in order to dig for answers. Unfortunately, this means she'll need to get close to the one thing on the island that's not on the menu: the devastatingly handsome and intimidating Mr. Rook. And he's not about to give the island's secrets away.