In My Fair Duchess (Dukes Behaving Badly #5) by Megan Frampton, Archibald Salisbury is back from the war and working as a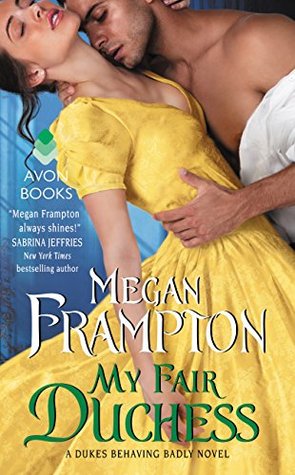 steward for Lady Sophia when she tasks him with an unheard of challenge. He's to assist her goddaughter Genevieve, the new Duchess of Blakesley, as she prepares to enter into Society. While a woman inheriting a dukedom is unfamiliar to Archie, he's more than capable of helping Genevieve find her footing and in getting her estates organized. But he wasn't prepared to be charmed by her wit and blinded by her strength and beauty. And that throws his well-organized life into pure chaos. Not that he minds it one bit.
"You are far more than your title. But your title is all that people will see when they look at you. Most people, that is. People like me and your grandmother, and the staff who raised you. Those people know who you are. Some of us might even deserve to know you, but most of the rest of them," he said, throwing his arm out in exasperation, "they don't. They don't deserve you."
She looked up at him and bit her lip, her eyes moist with unshed tears. "That is the nicest thing anyone has ever said to me."
Genevieve was taken off guard when she found out she was to inherit her father's title. She wasn't brought up learning the rules of Society and what would be expected of her as a duchess. Instead, she was raised sheltered in the country and with little contact with her family. So when Genevieve asks her godmother for help, she's relieved that she sends capable Archie to her door. Although if she's honest, the handsome war hero makes her tongue-tied and have thoughts that no proper duchess should have. With her family and the rest of Society critiquing her, Genevieve must be careful in every decision she makes. And even though her heart makes it clear that Archie is The One, she might not have the option to pursue what could be a splendid, life changing romance.
His jaw clenched, and his hands were as well, the whites of his knuckles indicating his emotion.
That shouldn't make her glad, to see how affected he was, but she couldn't help but feel delighted that this whatever it was wasn't entirely on her side. He felt it, too, felt it so much he was holding himself back.
What fun My Fair Duchess was! From the unique subject matter of a woman inheriting a dukedom to the playful relationship between the hero and heroine, I was instantly charmed by Megan Frampton's latest story in her popular Dukes Behaving Badly series.
'Apparently female dukes–also known as duchesses–didn't need to study… She did wish there was some sort of book she could just read on the subject, as she'd asked her godmother. Duchessing and Other Very Specific Occupations, or perhaps How to Duchess Without Being a Dullard.'
I truly did have a fantastic time reading this historical romance–as I always do with Frampton's work–and I think readers will be able to enjoy this as a standalone or as part of the series. The first thing to grab my attention was of course the fact that Genevieve inherited the dukedom upon her father's death. My heart kind of went out to her considering that not only did she not grow up being groomed for the role, but that she didn't have a huge amount of support as she faced critics and entered into Society.
But that's where Archie came along in all his wonderful "Salisburyness", as Genevieve would say. Right from the start it felt like they were a match made in heaven. I loved that they were both smart, inquisitive, and capable, but that they were fighting their own demons and tried to support each other along the way. Plus Archie and Genevieve had such a lovely way of teasing and keeping things lighthearted as she learned to become a duchess. Their conversations, and their letters to each other, made me laugh so many times all the way through until the grand ending, which was admittedly rather abrupt (I was hoping for an epilogue) but it left off on a pleasant note.
Witty dialogue, delightful characters, and a romance that was equal parts sizzling and sweet, My Fair Duchess will no doubt be a winner for historical romance fans.

Book Info:

Publication: February 28th 2017 | Avon | Dukes Behaving Badly #5
The unexpected duchess
Archibald Salisbury, son of a viscount, war hero, and proficient in the proper ways of aristocratic society, has received orders for his most challenging mission: Genevieve, Duchess of Blakesley. How she inherited a duchy isn't his problem. Turning her into a perfect duchess is. But how can he keep his mind on business when her beauty entices him toward pleasure?
It was impossible, unprecedented…and undeniably true. Genevieve is now a "duke", or, rather, a duchess. So what is she to do when the ton eyes her every move, hoping she'll make a mistake? Genevieve knows she has brains and has sometimes been told she has beauty, but, out of her depth, she calls on an expert. And what an expert, with shoulders broad enough to lean on, and a wit that matches her own. Archie is supposed to teach her to be a lady and run her estate, but what she really wants to do is unladylike—run into his arms.