In My Kind of Wonderful by Jill Shalvis, Bailey Moore has a list of things she wants to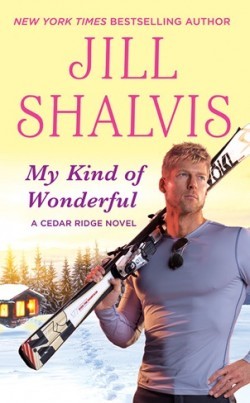 accomplish. A list of things that celebrates that fact that she's alive and can actually accomplish them. On it is skiing in the Rockies, so when she gets a job offer to paint a mural at a struggling ski resort, she accepts the job.
Hudson Kincaid is so busy he doesn't have time for himself, let alone a relationship. He 's the head of the ski patrol at his family's resort, he's a police officer for town, and he tries his best to be there for his mother, who suffers from dementia. He's also searching for his twin brother, who took off years earlier after they had a fight and hadn't looked back. So when Bailey proposes one night together, and one night only, he doesn't resist. Only one night turned into more, which neither expected.
Hudson and Bailey were great together. Bailey hated that her mother and ex-boyfriend treated her like she couldn't take care of herself. Hudson, realizing she was recovering from cancer, never treated her like that. He recognized an inner strength in her and encouraged her to go after what she wanted. Bailey, for her part, tried to get Hudson to open up and to take more time for himself.
Hudson harbors a lot guilt and pain. He blames himself for his father leaving his mother, for his mother's situation, and for his twin taking off. Because of this he puts everyone before himself. He pushes for everyone around him to discover what makes them happy, only he holds back from finding that for himself. His other siblings want him to be happy, too, and they try their best to get him to see that Bailey could be his happiness.
It's clear that the Kincaid siblings, although only half-siblings who hadn't really grown up together, are very close, with the exception of Jacob (Hudson's twin). It was nice to see how much they support one another and are willing to do whatever it takes to help each other out.
Jill Shalvis has crafted a heart warming novel about discovering what it really means to live again. It's not about what's on a list, it's about finding people who truly make you feel alive. The characters and the story line are well-written. Their struggles are realistic and you can't help but root for these two to find their happy ending.
This is the second book in the series but can be read as a stand alone. If you've read and enjoyed Jill's Lucky Harbor series, you'll enjoy this one. If you haven't read anything by this author before, this is a good one to start with.
Book Info:

Publication: December 22, 2015 | Grand Central Publishing | Cedar Ridge #2
Bailey Moore has an agenda: skiing in the Rockies, exploring castles in Europe, ballroom dancing in Argentina. Now that she has a second lease on life, she's determined not to miss a thing. What she doesn't realize is that item #1 comes with a six-foot-one ski god hot enough to melt a polar ice cap. She doesn't want to miss out on him either, but Hudson Kincaid isn't the type of guy to love and let go. And as gorgeous as Cedar Ridge is, she's not planning to stick around.
As head of ski patrol at his family's resort, Hud thinks he's seen it all. But never has he run into someone like Bailey. She might look delicate, but her attitude is all firecracker. And her infectious joy touches something deep within him that he's been missing far too long. Now he'll just have to convince Bailey to take a chance on her biggest adventure yet . . . something rare and all kinds of wonderful.