In My Once and Future Duke (The Wagers of Sin #1) by Caroline Linden, After losing her parents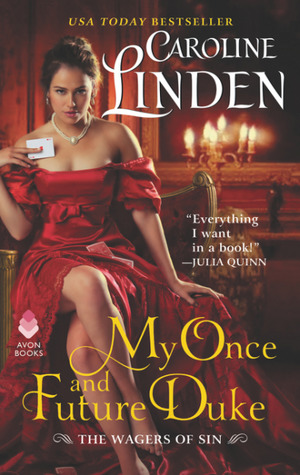 when she was twelve and then being immediately sent to a lady's school by her curmudgeonly grandfather, Sophie Campbell has learned to be independent in a world where women are supposed to rely upon men. She's devised a plan where she will amass enough money through gambling so she can remain free to live the life she chooses. One fateful night changes everything, though. When she's pulled into a dispute between two brothers and becomes the object of their attention, Sophie knows she's in trouble. But it's the wager the Duke of Ware makes, five thousand pounds if she wins or a week of her companionship if she loses, that shocks her. Although the duke is not a gambler so the odds are in her favor, Sophie isn't one to take unnecessary risks. However the temptation of the money–and if she's being honest, a week with the duke–may be more than she can walk away from.
'Everything in life was a matter of chance. Happiness depended solely on one's own efforts, because Fate was rarely kind or generous. Sophie had learned that early, and she would never, ever forget it. One could never count on luck.'
Becoming the Duke of Ware at a relatively young age taught Jack Lindeville about the responsibility of his title and to his family, and that even though others think he can do whatever he chooses, his days and nights are filled with work. Chasing down his younger brother Philip at the Vega Club to give him an ultimatum–stop gambling with money he doesn't have or risk losing his allowance altogether–proved to be fortuitous for Jack. Or it might turn out to be a curse. Because try as he might, he can't get lovely Sophie out of his mind. And he thinks such a beautiful distraction is just what he needs in his life right now. His wager might have been over the top, but Jack can't regret the time he spends with Sophie out of the prying eyes of the Ton. But when they go back to their normal daily lives, he finds himself looking for reasons to seek her out. Will it be worth the risk to his title and to her reputation to see where this liaison leads?
'Still he wanted her, more than ever, more than he cared for the dignity of his father's house, the obligation of his title…'
Deliciously scandalous, My Once and Future Duke was a passionate Regency romance with two smart-witted main characters who had enough attraction between them to burn up the pages.
"You said you didn't expect to win that wager," she said softly… "Why did you propose it?"
"Haven't you guessed?"
She angled her face toward him. "Tell me. I'm no good at guessing."
He let out his breath, his eyes shadowed, and then he bent and kissed her.
I'm glad this was my introduction into Caroline Linden's writing. Not only is this the beginning of what already seems to be a solid new series, but this was also quite the page-turner of a romance. There wasn't a huge amount of twists or turns, but the plot was intricately detailed and moved along at a good pace. I loved the dialogue between all the characters and found it to be fitting for the Regency period while still showing off all of the casts' personalities perfectly. And the romance itself? Hot and steamy love scenes did abound but there was enough genuine emotion to keep it from being too much.
I immediately liked both Sophie and Jack and thought they made an interesting couple. I'm not really sure if it would have been historically accurate for a woman to have been allowed at a gaming hall to gamble, but Sophie was smart as a whip and had a good head on her shoulders. Self-reliant and a woman who knew her own mind, she was the strong type of female lead I love, both in historical and contemporary books. She made quite a match for Jack, who was equally intelligent and steadfast. He had actually sort of lost himself in the years since becoming duke and I loved seeing him open up, showing his true personality again. Sophie definitely brought that out in Jack, helping him remember his own wants and emotions.
There were some incredibly well-written secondary characters here that I think will grab readers' attention. Jack's brother Philip was definitely one, as was their mother, and then Sophie's two friends Eliza and Lady Georgiana. Eliza's book will be up next, An Earl Like You, and sounds to be a fairly intense, emotional story.
Filled with smart writing and engaging characters, I think My Once and Future Duke will be a wonderful addition to any Regency fans' collection.
Book Info:

Publication: February 27th 2018 | Avon | The Wagers of Sin #1
What happens at the infamous Vega Club . . .
Sophie Campbell is determined to be mistress of her own fate. Surviving on her skill at cards, she never risks what she can't afford to lose. Yet when the Duke of Ware proposes a scandalous wager that's too extravagant to refuse, she can't resist. If she wins, she'll get five thousand pounds, enough to secure her independence forever.
Stays at the Vega Club . . .
Jack Lindeville, Duke of Ware, tells himself he's at the Vega Club merely to save his reckless brother from losing everything, but he knows it's a lie. He can't keep his eyes off Sophie, and to get her he breaks his ironclad rule against gambling. If he wins, he wants her—for a week.
Until now.
A week with Jack could ruin what's left of Sophie's reputation. It might even cost her her heart. But when it comes to love, all bets are off . . .