In My One and Only by Terri Osburn, Haleigh Mitchner runs into her best friend's brother,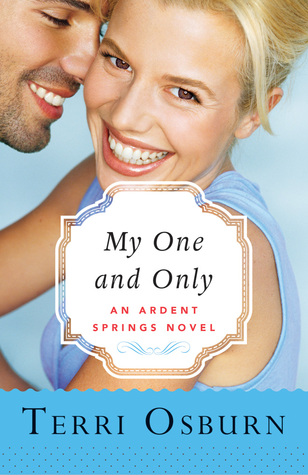 Cooper Ridgeway, when he escorts a pregnant teenager into the hospital. The two help Jessi deliver her baby, and Cooper and Haleigh work together to help Jessi find her father, a man she never met but was told lived in Ardent Springs.
Cooper is a good guy. He's always trying to help everyone out, from his grieving sister to the pregnant teenager. Haleigh, an OB-GYN and recovering alcoholic, feels like she isn't good enough for a guy as good as Cooper. Yet, even when Abby warns her away from her brother, she can't help but get involved with him. There were times when Haleigh overreacted a bit, but Cooper always found a way to calm her down.
I didn't like how Abby treated Haleigh. Yes, she was trying to protect her brother, but she had no right to divulge Haleigh's secrets to Cooper. Plus she harbored anger towards Haleigh over something that Haleigh had no control over, but then refused to tell Haleigh why she was upset.
There's also Cooper's best friend, Spencer. He encourages Cooper to go after Haleigh, but then when he does, he gets mad at him for spending time with her when they couldn't get in contact with him to get information for a fundraiser. He blew the incident up more than it needed to be which led to unnecessary tension between the friends. It almost felt like it was thrown in there to create more drama.
This is the third book in the series but can be read as a standalone. If you've read and enjoyed the previous books in the series, or if you enjoy the best friend's brother trope, you should give this one a read.
Book Info:

Publication: May 17, 2016 | Montlake Romance | Ardent Springs #3
As far as Dr. Haleigh Rae Mitchner is concerned, Cooper Ridgeway is more suited to a superhero cape than mechanic's overalls. It's just like Ardent Springs's most upstanding resident to rescue a pregnant, homeless teenager and bring her to Haleigh's delivery room. When they team up to help the new mother and baby, Haleigh is determined not to cross the line with Cooper. Not only is he her best friend's brother, he's a guy who deserves more than Haleigh's checkered past could ever offer.
At first glance, Haleigh is no longer the girl Cooper pined for in school. The sleek, professional OB-GYN seems more out of reach than ever for this small-town mechanic. But the more time he spends with the complicated woman, the more he wants her. Who better than Cooper to prove to her that nothing is beyond fixing? Especially in Ardent Springs, a town that's tailor-made for second chances.