My Reckless Valentine by Olivia Dade: Angie's passion for her job in the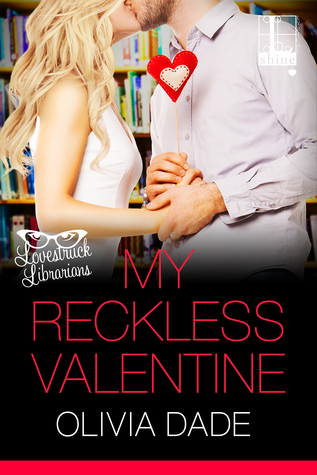 public library is met only by her desire to actually keep it. Her reckless acts in using the romance and erotica section and creating not library appropriate events has caused her boss to hire a new director meant to keep her in line. Only, she's created a new contest that she can't cancel now or else she will for sure get complaints.
Except, the night before Angie and her new boss, Grant, met, they had a night of passion and a promise of a relationship. For Grant, the horror and disappointment of discovering the woman who made him light up so spectacularly is now off-limits, is unreal. Usually so straitlaced, he pursues Angie, the only woman to make him forget his charts and calm manner.
But can they keep their burgeoning relationship a secret? And can Angie keep her contest under wraps so that both she and Grant can keep their jobs?
Angie more resembled a tropical hibiscus in the sun. colorful, bold, and bright. Beautiful. Displaying that beauty to the world without apology… Slowly, giving her every opportunity to pull away from him, he lowered his mouth to hers…
I love Dade's Lovestruck Librarians series. It's adorable, sexy, and totally charming. Straitlaced Grant going wild for his Angie is everything. Honestly, at times it was hilarious, but I loved it every time. And though he knows it's risky and knows he needs the job for his parents, he gives every risk to be with her his need is so strong. I loved seeing Grant grow become stronger the more he knew Angie.
Angie's recklessness at times annoyed me because it was so unnecessary, but all the same I loved her for it and understood her need to do it. And Grant did too. He was fully there to help her. Their passion wasn't only in the bedroom, it sparked between them as they got to know each other more.
For any reader wanting a fun and sexy read I recommend My Reckless Valentine along with Dade's first Lovestruck Librarian.
Book Info:

Publication: January 19, 2015 | Lyrical Shine | Lovestruck Librarians #2
TEMPTATION FROM A TO Z
Library manager Angie Burrowes is in trouble again. Her superiors have never approved of her unconventional methods, but the latest warning is serious—another complaint from the administration or a patron, and she's fired. With a steamy Valentine's Day contest to conceal and her career on the line, the last thing Angie needs is a near-accident while driving home. At least, until she meets the tall, dark, and sexy stranger responsible for her very own spicy plot twist…
Straight-laced Grant Peterson has only one thing on his mind: making a good impression as the new Director of Branch Services at the Nice County Public Library. On the eve of his first day, however, a lusty encounter with Angie unleashes a desire unlike any he's ever known. Their tryst may be one for the record books, but when he learns he's Angie's new boss, will Grant need to check out on love?