Nacho Figueras Presents: High Season by Jessica Whitman, brings seduction and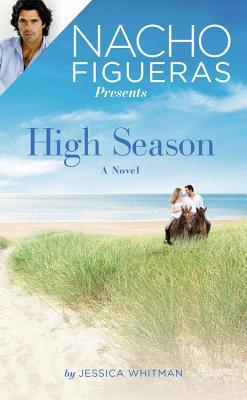 scandal to the world of polo. Romance blossoms with two vastly different people while drama ensures as jealously and doubts take hold.
Alejandro Del Campo's world is filled with privilege and wealth. He and his family are part of a legendary polo dynasty and it's up to Alejandro as team captain to get his team the cup. To say he is under a lot of pressure is putting it mildly. It's been three years since his wife died while riding and his grief is still relevant. His sixteen-year daughter is acting out and his polo team isn't doing so well, but when something happens to his prize pony, his life becomes a little more hectic and a little less lonely as he convinces Georgia to work for him.
Georgia Fellowes helps her dad with their farm while assisting at the animal clinic. Georgia has her own dreams but the farm isn't doing too well money wise and she feels like she owes it to her dad to be there, especially since her mother up and left them. When her friend Billy asks her to come visit him in Florida to check out the new guy he's seeing, she leaves for New York for the next four days, but four days turns into six weeks as she becomes the new vet for Alejandro. It's very clear that Georgia is different from everyone else.
"In a room full of women working their surgically enhanced assets to the max, she stood out in her simplicity."
Georgia is a breath of fresh air who honestly cares about the horses and Alejandro's family and not just about their money. While Georgia is smart and classy, it's clear that she's out of her league.
The romance is a slow burn for Alejandro and Georgia. The chemistry is instant for the two characters but when Alejandro offers Georgia a job, their relationship becomes strictly business. I have to give it to these characters, they try to resist the attraction but eventually it becomes too much for them and they give in to their wants and their needs. When Alejandro and Georgia are together everything is right in their world and in their hearts…until an accident occurs leaving Georgia on the outside looking in. Can they find a way back to each other or are they destined to stay in their own worlds?
This book is well-written, engaging, and had me turning the pages eagerly while trying to find out if Alejandro and Georgia would get together and then later on if the two love birds would be able to stay together. I'll be honest, I wasn't sure if I would enjoy this book but I am happy to report that I loved this book and can't wait to read the next book.
Book Info:

Publication: May 31st 2016 | Forever | Polo Season #1
World-renowned polo player and global face of Ralph Lauren, Nacho Figueras dives into the world of scandal and seduction with a new fiction series set in the glamorous, treacherous world of high-stakes polo competition.
Georgia never wanted to be a jetsetter. A plain old country vet was fine for her. But one distress call from her best friend and the next thing she knows she's neck deep in the world of polo's most elite international players–complete with designer dresses, fine champagne and some of the most gorgeous thoroughbreds she's ever seen. Some of the most gorgeous men too…
Alejandro Del Campo needs his team to win the season's biggest polo tournament or else he's not sure how much longer they're going to be in business. What he doesn't need is some sassy new vet telling him how to run his business–and distracting him at every turn. But as they come closer and closer to the championship match, it soon becomes clear that Alejandro wants to win Georgia just as much as the tourney trophy. But can he ever convince her his world is where she truly belongs?