Naked Sushi by Jina Bacarr: is a fun and kinky short story that is totally engaging and entertaining.
What happens to a hot computer programmer when she is burning the midnight oil?
She has wild sex against the copy machine with an undercover FBI agent, who she thinks is the company's new video game designer. Suddenly, an alarm goes off on the copier and the bitchy office manager, Ms. Sims, appears out of nowhere. The FBI agent gets away and Pepper O'Malley gets fired for engaging in a sexual tryst, in addition to copying confidential documents. Apparently, the best sex of her life was with a thief.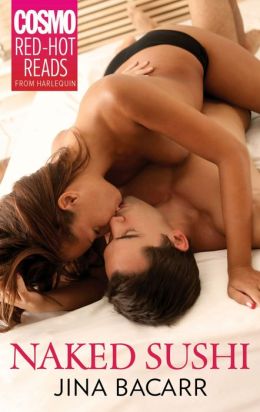 Needing to make the rent, Pepper wants to speak face-to-face with her former boss, Mr. Briggs, and beg him for a second chance. By hacking into Ms. Sims' computer, she is able to view his calendar, among some other very interesting files. Pepper ends up infiltrating Mr. Briggs' luncheon meeting and making a quick buck at the same time. Little did she know that she would run into the gorgeous guy from the copy room as well.
FBI Special Agent Steve Raines is so close to solving his case he can taste it. He is almost one hundred percent sure Briggs is involved in money laundering and corporate espionage. He just has to get him to admit it. Steve has spent the last few months gaining Briggs' trust and hopefully Briggs will finally take the bait.
Pepper has always worn dumpy clothes in order to fit in, so she is not used to showing off her body in any way. Today however is a special case. She is working her friend Cindy's shift at The Mermaid's Tale, a sushi restaurant for men. With the exception of a banana leaf and a couple of carefully placed chrysanthemums, she is naked as a jaybird, covered with sushi. She is a sushi model and the restaurant patrons are eating it right off her body. Coincidentally, this is where Mr. Briggs is having lunch with Steve Raines, his new business acquaintance. After denying Pepper job reinstatement, Mr. Briggs can't flee the restaurant fast enough once Pepper let's him in on the information she now knows about his shaky business dealings. Of course Pepper and Steve recognize each other and begin to realize that their previous encounter was more than just a one night stand.
After being interrogated by the FBI about her involvement with Briggs, Pepper agrees to help Steve solve his case. It is interesting to mention that before Pepper became a top-notch computer genius, she wanted to be a spy. She applied to all the relevant government agencies but got cold feet during the interviewing process. Her lack of self confidence always kept her from pursuing her dreams. If all goes well, maybe the FBI will use her skill-set.
Throughout their short-time together, Pepper and Steve are constantly flirting, touching and exploring. Their first true date is a night of passion, lots of detailed kink, and lust. Love naturally follows. If you are in the mood for a super sexy caper, look no further than Naked Sushi by Jina Bacarr.
Book Info

Publication Date: October 15, 2013
From Jina Bacarr comes a sexy and provocative new release from Cosmo Red-Hot Reads from Harlequin.
Spy wannabe Pepper O'Malley gets more than she bargained for when she discovers her sleazy boss is hiding corporate secrets. She gets fired. Okay, she got caught in the copy room in flagrante delicto with a hunky thief, but she thought he was the new programmer. To get her job back Pepper becomes a naked sushi model and spies on her ex-boss. That plan throws her into the world of corporate espionage including being kidnapped by said hunky thief/ pretend programmer/ real-life FBI agent. And that's just the beginning…