In Naughty Bits Part II: The Training Session by Joey W.Hill, Madison is still struggling to run the lingerie (and more!) shop she inherited from her sister. While her sister embraced her sexual self, Madison has long denied it and hidden her desires and needs. Logan, who owns the hardware store next door makes Madison's breath catch the moment she sees him. (Madison and Logan's meeting is in Naughty Bits Part I) Logan is obviously a dominant, and he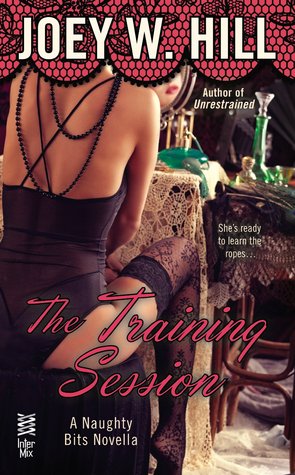 sees the submissive side of Madison she thinks she keeps well hidden. When he invites her to help him train a submissive, the experience opens up a new world of feelings and experience for Madison.
Madison is still riddled with uncertainty and fears. She also feels guilty about not only her desires but her sister's death. Logan is determined to help her, to have her trust and to have her. He makes Madison feel safe, but is it enough? Can she take the steps with Logan, on the way to submission and all it is?
This installment in Joey's Naughty Bits series is steamy hot and erotic, but it is also more than that. Madison and Logan have an obvious connection, and how they are with each other is so great to read. Logan is helping Madison in more than one way. He is in control, hot, and very sensitive to all of Madison and her needs, not just sexually. I like how Joey subtly weaves this into Naughty Bits, how I can see the connection and attraction between Logan and Madison, and how he is slowly helping her in so many ways. Madison I really feel for. Whatever your deepest desires are, you shouldn't feel bad for them…but she's carried this and previous relationship mistakes around for so long she can't trust easily. She is also still grieving for her sister, and theirs was a bit of a complicated relationship. Madison has a lot of inner conflict.
Joey infuses Naughty Bits Part II with many factors of Madison and her life, of course the main one being the emergence of her submissiveness. I really like Joey's writing, it's easy to read, well paced, and she is very descriptive!! I find the length of each part of Naughty Bits just right to add one more layer to the story.
If you enjoy erotica and don't mind serial books, I would recommend this series!
Book Info:

Published May 20th 2014 by InterMix
Fear is no match for lust in Joey W. Hill's sexy new novella about a woman who sheds her shame to embrace her pleasure…
Madison may have ditched her well-ordered Boston life to run Naughty Bits, her sister's North Carolina lingerie shop, but she didn't expect to throw herself into such chaos—or to become intimate with the sexiest man she's ever had the pleasure of meeting. After spending a night observing a submissive's training session, Madison is ready for Logan to teach her how to feed her own deep fantasies—and get rid of all her lingering fears…
Madison's aching desire to submit is unlike anything Logan's ever experienced before, and he's determined to be the man to make her relinquish control. Still, Logan's unsure if Madison is ready to take that first step to becoming his—until she shows up at his door ready to be commanded. Luckily for them both, Logan's got more than a few surprises up his sleeve that he knows she'll enjoy…