In Naughty Christmas Nights by Tawny Weber, sexy lingerie designer Hailey North is in a bit of a pickle. It is the holiday season and her business may be defunct by they end of the year, unless she is able to land the Rudolph Department Stores account. In order to do that, she has to convince both Rudolph and Cherry Bella, the songstress turned model who will be most likely be representing the women's line from the exclusive department store chain, that her romantic and enchanting lingerie is what women want to wear. Her last and final sales pitch must positively brand Merry Widow Lingerie into their minds forever.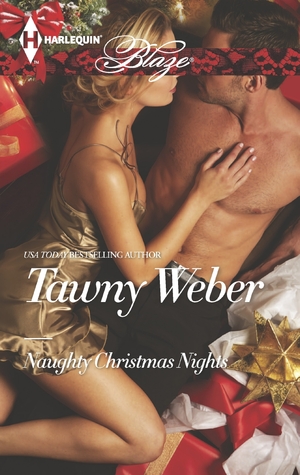 Unfortunately, Hailey's competition is super hot, marketing guru Gage Milano. He and his family own and manage a huge conglomerate of businesses and their leather lingerie line is an up and comer, especially if Gage lands Rudolph Department Stores. In addition, obtaining this account will allow him to take a much deserved year off from the 24/7 manic lifestyle of the Milano dynasty, and concentrate on his own personal business ventures.
Hailey and Gage meet not knowing the other is their competition. In fact, they have an instant chemistry and share a lustful kiss. The kiss evolves into a plan for a first date, which never materializes because of their competitive circumstances.
Hailey's big pitch night is a bust when Cherry falls ill and Rudolph is running late. Thus, Hailey and Gage end up having dinner together, which turns Hailey into complete mush after Gage's talented fingers do a little exploring underneath the table. Rudolph eventually shows up and they all agree to reschedule Hailey because the dinner component of her pitch is ruined. They move on to Gage's sex show, which doesn't seem to help him move forward in the process, however, Rudolph enjoys himself immensely.
Hailey and Gage culminate the evening with mind-blowing passion, which eventually evolves into more. However, only after they overcome the lingerie competition and some other barriers are they able to find true happiness together.
I am a huge Tawny Weber fan and I always look forward to her next book. Unfortunately, this story did not entirely work for me. At first I enjoyed the lingerie competition, however as I continued to read, it became less exciting and more repetitive and uneventful. I just wanted a winner to be selected, so that the hot relationship between Hailey and Gage could be explored even further without the constant hum of the battle between them. I loved Rudolph's noisy assistant Jared, because he added some comic relief during the costume holiday party. Lastly, the use of the name Rudolph continually kept me smiling and in the holiday theme mood.
Book Info:

Publication: November 19th 2013 by Harlequin Blaze (Book 778)
This Christmas, it's nice vs. naughty…
Lace stockings…
Hailey North has worked her butt off to make Merry Widow Lingerie a success. But if she doesn't win the bid for Rudolph's department store, she's in big trouble. Her strategy? To prove that romance, playfulness and eroticism are what women want. The problem, however, is what Hailey wants…her wickedly hot, sexy competitor.
Or black leather?
Sex sells, and the Milano line is certainly all about sex. Besides, winning is the only way Gage Milano can extract himself from the family business. Unfortunately, Hailey's romantic lingerie threatens not only his freedom, but his libido! But when their professional rivalry turns into a red-hot rendezvous, the competition really starts heating up. And Xmas is about to get a whole lot more X-rated!