Nauti Angel by Lora Leigh: Angel is a force to be reckoned with. After growing up with mercenaries, she knows how to fight and protect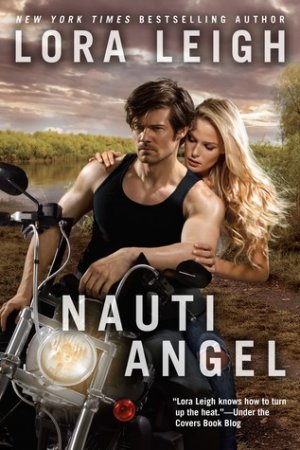 herself. She's closed herself off from most emotions after remembering the horrifying memories of losing her sister and fighting for her own survival as a child. It's an understatement to say that she's rough around the edges, and has only more recently lessened the drinking, cursing, and bar fights.
Angel is great at keeping secrets, especially from the Mackay's and her mom, who have no idea of who she really is. When there is an attempted kidnapping of Bliss, Angel's protective instincts come in to play and she refuses to leave her sister who may still be in danger. Except that means working with Duke, who is yet another infuriating, alpha male from the Mackay clan.
Angel and Duke have their own complicated history. They've worked together at times over the last five years. They drive each other nuts, but they also are drawn to each other with an irresistible chemistry. They push and challenge each other, but they also have each other's backs while on assignments.
"I have a gray hair," he snarled. "I know you're the reason for it."
Lifting her eyes Angel checked the deep black, thick strands of hair. Sure enough, right there on top.
"You're welcome," she assured him, a mocking smile curling her lips. "Give me a minute and I'll give you another."
Angel is definitely stubborn and single-minded in only dealing with protecting Bliss while ignoring the past and her mom. Duke and Angel finally give in to their chemistry, but they still have plenty to argue about. Duke is definitely protective and he's determined to keep Angel safe for himself and her family.
"I have things to do."
The amusement flashed back in his expression.
"Are you trying to dismiss me, Angel?" The vein of laughter in his voice was infuriating. "Have you ever known that to work?"
"A two-by-four wouldn't work with you," she muttered, turning her back on him to return to the laptop.
Nauti Angel is compelling, engaging, and sexy. Lora Leigh pulls you into the dangerous worlds of these two dynamic families from the first page. Ms. Leigh provided entertaining characters with plenty of strong women to balance out the alpha males. Nauti Angel can be read as a standalone in the Nauti series. Fans of Lexi Blake and Roni Loren will enjoy Nauti Angel.

Book Info:

Publication: November 7th 2017 | Berkley Books | Nauti #9
#1 New York Times bestselling author Lora Leigh unleashes a fiery new Nauti novel, in which a dangerous woman finds herself a target in more ways than one…
Angel Calloway isn't the girl next door. Known for being rude and cursing like a sailor on a bender, she's meaner than the two mercenaries she's followed since she was young. Needing anyone is not what she's about. Or so she thought–until she found the mother she was taken from so long ago, Chaya Mackay, wife to the notorious Natches Mackay.
One night with Angel and devilishly sexy Marine Reece Duquaine was hooked. She nearly blew his head off, and moments later, she blew his mind. He's been after her ever since, wrestling with a desire that fights to consume him. But now he has her in his sights–and is ready to take his shot.
Unless someone else moves in for the kill first…