In Navy Doc on her Christmas List by Amy Ruttan, Dr. Ella Lockwood and Dr. Zac Davenport were once the best of friends until he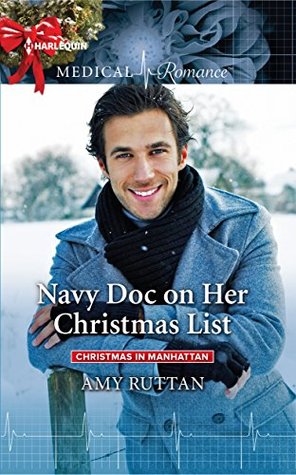 broke her heart. Now though, they're working together on Christmas Eve when they're snowed in at Manhattan Mercy Hospital, and Ella is determined to keep her distance from the one man she knows could hurt her all over again. However, when she discovers how much Zac's last tour of duty changed him, Ella is determined to help him, if he'll let her. Will Ella and Zac be able to overcome the past to have a future together, or does Zac believe he's too damaged to ever be able to give Ella the love and happiness she deserves?
"I don't know what I was thinking but that's no excuse. I'm sorry that happened. Exhaustion."
"Or your post-traumatic stress disorder," she said, trying to straighten her hair.
"What?" he snapped, taken off guard. "I don't have post-traumatic stress disorder."
"Oh, come on, Zac. You're not sleeping, you're jumpy…"
"I'm trying to get back into routine." He sighed. "I was cleared by the Annapolis psychiatrists. I disclosed that I'd had PTSD to Charles in my interview, had being the operative word."
Any chance to read a book by Ms. Ruttan is an opportunity always worth taking, as I've discovered the books I've read so far by this talented author are captivating and keep me entertained from start to finish every time, and this story was no different. Really, the way this story started had me empathizing with the heroine, as she finds herself in a jam with not being able to leave the hospital because of the weather. Then again, she also sees her predicament as a blessing and I could understand why the more of the book I read from the heroine's point-of-view. Why is her mother so disappointed that Ella isn't married or in a relationship? However, it was from the moment the hero and heroine come face-to-face for the first time that I found extremely interesting, as the heroine is annoyed by the hero and her attitude towards Zac had me reading quickly, determined to discover more about what happened between them and why the heroine is treating the hero the way she does.
As for the dialogue, it was compelling and had me loving the growing relationship between Zac and Ella because the heroine doesn't know whether she can trust him again after overhearing something he once said; and the fact that there doesn't seem any way Zac can get past what happened during his last tour of duty. Will Ella be able to help Zac? Will Zac be able to find a way to get Ella to forgive him about what she once overheard? Moreover, the hero's back story was heart-breaking and I could understand why he still suffers from the pain of what happened during his last tour of duty. I also liked how hard the hero worked to win back the heroine's trust, even though it's not easy. While the heroine, she's hard-working, resilient and I liked how she challenged the hero with how adamant she was that he still had PTSD, despite him being cleared to work and Zac doing everything he can to deny that he doesn't suffer post-traumatic stress. Yet, I also liked that there were moments where Ella could still joke with Zac and that their past friendship wasn't so easy to ignore.
"That's a good sign," she said.
"Yeah, a good sign we're about to be bombarded. I hope you're ready, Dr. Lockwood."
"Don't jinx it."
Zac was going to say something else when the phone rang. All the lines started to light up. "Here we go."
"See, you jinxed it."
"Ha-ha. You man the phone and I'll get the troops ready."
"Aye-aye." She gave a salute and he rolled his eyes, chuckling as he answered the phone.
Overall, Ms. Ruttan has delivered a wonderful conclusion for this series where there's plenty of chemistry between this couple; the romance did justice to their powerful chemistry; and the ending had me crying happy tears because of the way Zac makes things right between him and Ella. Certainly, he's creative and his idea is his way of apologizing for how he wronged her years ago. Then again, how could he continue to deny his true feelings for her? Feelings he's had for so long, but found it hard to tell her because he didn't do relationships. However, it was the epilogue that wrapped this story up perfectly, as Ella and Zac have been through so much and deserve the happiness they've found. But, Ella dealing with her mother when she's still criticising her for every little thing is annoying to deal with on such an important day. Yet, what I enjoyed most of all about the epilogue was the surprise the heroine had right at the end and that she wasn't the only one with a surprise for the Davenport family. I would recommend Navy Doc on her Christmas List by Amy Ruttan, if you enjoy the friends to lovers trope or books by authors Alison Roberts, Susan Carlisle, Amalie Berlin and Janice Lynn.

Book Info:

Publication: December 1st, 2017 | Harlequin Medical | Christmas in Manhattan #6
A snowbound reunion!
Tension between Dr. Ella Lockwood and former navy doc Zac Davenport is sky-high! All she can think about is how he once broke her vulnerable heart.
But now she's a confident ER surgeon who'll never let him hurt her again. And being snowed in together on Christmas Eve at Manhattan Mercy reveals his last tour of duty has changed Zac, too. But that compelling spark is still there—and one more irresistible kiss is all it takes to start healing the wounds that have held them back…