In Need Me (Broke and Beautiful #2) by Tessa Bailey, English Lit professor Ben Dawson has a strict code he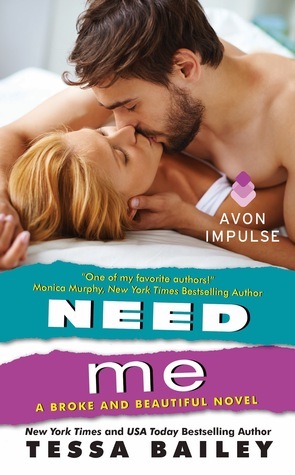 follows: He doesn't tolerate deceit and he will not risk his career by getting involved with a student. No matter how tempting she might be. But that was before he met Honey Perribow and read her inspiring essays. She is everything he could want in a woman, but being his student puts her off-limits. Once he makes his decision, though, Ben finds he can't be without her and must find a way to make things right.
'Lolita, Ms. Honey Perribow, and closet seductress. All the same girl. One and the same. They holy trinity of hot, intelligent, endearing girl, and he couldn't have her.'
Kentucky native Honey is loving life in The Big Apple and her medical studies at Columbia. Especially her English class, or to be perfectly honest, professor Ben Dawson. She didn't expect to fall for Ben, or to find herself stuck in a closet with him accidentally. When their chemistry all but combusts, Honey is determined to see things through with him. But resistance along the way and family issues threaten to keep them apart. Can she find a way to convey her feelings to Ben before things get too out of control?
"How can you throw me against a wall and say all manner of filthy things to me one minute and turn back into the befuddled professor the next?"
A smile tugged at the corner of his mouth. "Were they really filthy, these things?"
"All manner of filthy."
Leave it to Tessa Bailey to bring the sexy, especially in this newest romance. For those of you who have ever had a crush on a teacher, Need Me brings those fantasies to life. And it's every bit as naughty as one would imagine.
Holy. Hotness. The relationship that grew between Honey and Ben was absolutely smoldering. I'm not sure if it was that it was forbidden, being a student-teacher liaison, or if it was simply the chemistry between them. Probably both. But either way, author Tessa Bailey did a fabulous job of creating that wonderful tension and capitalizing on every moment of it, giving us a story rich with passion and desire.
Once again, I thought Ms. Bailey gave us likeable characters that were easy to relate to, as were their situations. Honey was a fun, solid young woman who was almost motherish in that she felt the need to take care of everyone. Hence her aspirations to become a doctor. And Ben was a nice mix of studious professor meets filthy-mouthed charmer. What a winning combination, in my humble opinion! As much as I loved their intimate scenes, which were intense but still fun, I actually really loved the scenes when Honey and Ben were hanging out with their friends. I thought the secondary characters were every bit as well-formed as our protagonists.
The New Adult genre has a new master in its midst. With just the right combination of humor, lust and drama, Need Me was a story I just couldn't put down. Very highly recommended.
Book Info:

Published April 21st 2015 by Avon Impulse
When Honey Perribow traded in her cowboy boots for stilettos and left her small Kentucky town to attend Columbia University, she never expected to find a dirt-cheap apartment or two new best friends. No stranger to hard work, Honey is completely focused on her medical degree … until she sees newly minted professor Ben Dawson, and her concentration is hijacked. Honey is fascinated by her gorgeous young English professor and vows to find a crack in his tweed-wearing, glasses-clad exterior.
At an off-campus party, an accident lands Ben in a dark, locked closet with a sexy-sounding Southern belle … and their chemistry is explosive. But when he discovers that the girl in his arms is the same beautiful student he can't stop thinking about, he is stunned. Student-teacher relationships are strictly forbidden … yet no matter how hard he tries, Ben can't stay away from Honey.
And when his attempt to fight their attraction nearly ruins the best thing that ever happened to him, Ben will do anything to prove how much he needs her.