Need You Now by Emma Douglas is the first in a new series, where two unlikely people find love when they were never expecting it.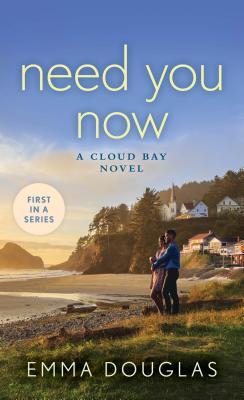 Caleb White is a well-known tennis player. After an injury and a press conference, he announces his plans to retire…right out of the blue, without thinking it through. He decides to hide out in Cloud Bay, an island that is known for their legendary music festival. What he doesn't expect to find is a woman who immediately captures his attention.
Faith Harper is the daughter of a famous rock star. Her dad was everything when he was alive and she keeps up the tradition of their annual music festival, with the help of her friends and some of his bandmates. She has no time for love and only involves herself in flings off the island. But when she meets Caleb, it's time to reevaluate her rules, especially since they have some pretty strong chemistry. Since neither of them are ready to settle down, they might as well as explore their attraction to each other. But as they get to know each other better, feelings emerge and before they know it, a fling isn't exactly in the cards anymore.
Faith is confident, intelligent, and very talented. She can easily make it in the music world, on her own, if she were to try again. She's also guarded and keeps her emotions to herself, which could become a problem for the couple. Overall, I enjoyed this story, especially the setting and the charming characters mentioned…well, except for Faith's brother. He needs to redeem himself for how he treated Faith.
This is the first book I've read from this author, but I'm already looking forward to the next story. For those who love small island/town romances, Need You Now is a good choice for your next read.

Book Info:

Publication: August 29th 2017 | St. Martin's Press | Cloud Bay #1
Welcome to the small island town of Cloud Bay, where it's never the wrong time to find a love that's oh-so-right. . .
Caleb White knows what he wants out of life–and being a star tennis player is not it. After speaking to the press about his plans to retire, Caleb decides that a trip to quaint, beautiful Cloud Bay for its legendary music festival is exactly what he needs. There will be time to figure out what to do with his life without a racket in his hand soon enough. Until then, Caleb is content to be stuck on an island with CloudFest's gorgeous director Faith Harper. . .
The daughter of a famous rock star, Faith knows all about fame, fortune, and hot flings that aren't meant to last longer than a few good songs. Gorgeous, built Caleb is a temptation she can't resist, but she's not prepared for the way he makes her feel. . .and the dreams that they both share. What begins as a carefree distraction deepens into something real. But is Caleb ready to put his celebrity behind him and give life in the slow lane with Faith a chance?