Never Let Me Go by Jennifer Haymore: Celeste McMillan is an extremely smart young woman. She skipped a grade, manically studied during high school and college, and is now the most recognized rookie analyst at Lowenstein, Barrett and Galindo, a top-notch management consulting company in Los Angeles. Thanks to her mother's example, Celeste has always been a driven individual, yet she scarified the "fun" part of her growing up years in order to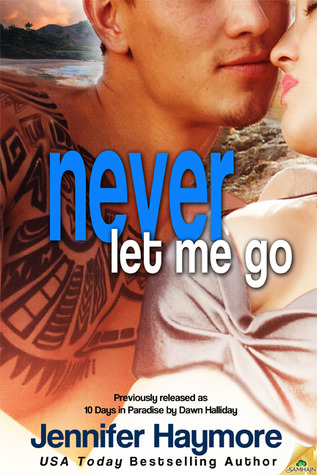 get where she is today. She believes she is happy and plans on making partner before she is thirty. She is certainly committed to her profession.
Celeste is forced to leave the love of her life, her job, when a client accosts her. According to Celeste's boss, a two-week break between Celeste and the client will be enough time to handle the situation both professionally and personally. So a day or so later, Celeste is on the big island of Hawaii, yanking her luggage from her small rental car and unsuccessfully unlocking the lock box where the key to her home for the next ten days is being stored. Luckily, Kanoe Anakalea, a young, native Hawaiian, is able to help her out.
Kanoe Anakalea is one hot man, in addition to being part owner of Royal Hawaiian Helicopter Tours. He is also a pilot, surfer and hula dancer at one of the resorts in Kona. His family wants him to be happy, but not with a haole (white person). Kanoe can't help himself when he sees the beautiful Celeste struggling, and as a result, they become instant friends and Kanoe agrees to be her tour guide while she is vacationing.
Very quickly their friendship turns into a hot, sensual affair, and keeping their hands off each other proves to be quite difficult. Kanoe exposes Celeste to the slower pace, beauty and nature of Hawaii, as Celeste begins to realize that life is not all about work. Lust and love at first site is certainly apropos in their situation.
Whew, talk about a scorcher of a read. This book is really hot and steamy. Ms. Haymore combines an extremely interesting story with lust, love and realism. Although I don't usually enjoy the young adult genre, I did like Never Let Me Go. Celeste and Kanoe came across very real to me. Celeste, is a woman trying to make a name for herself in a world where there are so many barriers to success, including her own. Kanoe, is a man living with the prejudices from the tourists as well as his family, due to stereotype of being an islander.
Overall, a well-written, passionate romance surrounded by the natural beauty of the island of Hawaii.
Book Info:

Published June 3rd 2014 by Samhain Publishing
"Sometimes following your ambitions means losing your heart. "
When Celeste McMillan graduated from college, she hit the ground running, prepared to overcome every challenge and climb the corporate ladder at record-breaking speed. But then a client assaults her, and her boss forces her to take a ten-day vacation in Hawaii.
Kanoe Anakalea is intrigued when he meets the pale-skinned, redheaded "haole" on his favorite surfing beach. Celeste is intelligent and adventurous, sexy and sweet. Even though sun, sand and sexy surfers are as foreign to Celeste as the L.A. corporate world is to Kanoe, their sexual chemistry sizzles.
As they spend sun-warmed days and plumeria-scented nights in each other s arms, they find themselves falling hard. Yet love is out of the question. Kanoe is rooted in his island home, and Celeste s future beckons in L.A. As the clock ticks down, Celeste realizes that letting go might be the greatest challenge she s ever had to face.
This book was previously released as "10 Days in Paradise" by Dawn Halliday. It has been revised and re-edited.
Warning: Contains a combustible situation near a volcano; steamy scenes on beaches and in lava pools; hints of voyeurism, exhibitionism and bondage; and some very creative uses of a surfboard. "