In New York Nights(Heart of the City #2 by CJ Duggan, New York City has always been a place in the world Sarah Williams dreamed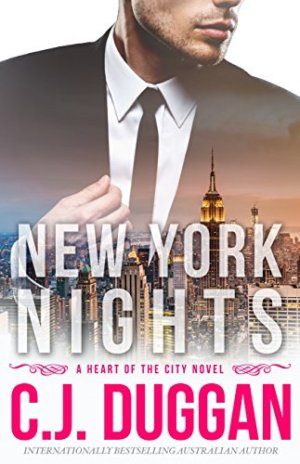 of one day visiting. And now with an incredible job opportunity as an au-pair lined up, she's determined to make the most of it. Except the baby's father is a distant, abrasive man she can't seem to figure out. Does he love his child or not? When Sarah discovers the truth of the secrets the Worthington family have tried so hard to keep hidden, will she walk away from the Ben and his daughter? Or will the truth finally set them both free to pursue the chemistry between them?
"I don't like the fact you're so surprised," I said, stirring the ice in my Coca-Cola as we sat in a booth at the bar in my hotel.
"What? Oh no, it's just that we tried a kind of intervention before you came aboard and it was an absolute disaster. Ben tends to rebel against any form of forced solution so today was a massive victory. What on earth did you say to him?"
"I didn't say much to him; if anything, I questioned his ability as a parent."
I've had a few book friends recommend this author's books to me, and now after reading my first book by Ms. Duggan, I'll definitely be reading more. The way this story started with Sarah facing the Worthington family had me feeling sorry for her. Ben's mother and one of his sisters seem cold, unfeeling and very much the type that look down at people that don't have the kind of money they do. Luckily, Sarah has an ally in one of the secondary characters, and I loved their growing friendship. However, the moment the heroine meets the hero is where things get really interesting. She isn't about to stick to the rules of not asking any questions, especially since he's so distant and abrasive; a man hard to get to know because he has so many walls up.
The dialogue was well-written and I loved the wonderful combination of intense and teasing dialogue. The intense dialogue was due to the main characters back stories, especially that of the hero. Family secrets threaten to destroy the growing relationship between Ben and Sarah. Will Ben give Sarah the benefit of the doubt? Moreover, I loved that the heroine managed to break down the hero's walls. He doesn't do relationships anymore, not after how his last relationship turned out. The lying and cheating by his ex makes it hard for him to trust again, but Sarah with her kind, caring nature and persistence to ask the hard questions in getting to know him better shows him that he deserves to be happy again and that love can be enough.
"If you scoot over there's a side table that flips out from the arm rest." His eyes darted to the side.
"What?" I said, flipping the arm rest back to find, sure enough, a side table. I looked at him with a huge grin. "No way."
"It's the couch that keeps on giving."
"I'll say, it's like a bloody Transformer," I said, readying myself for whatever was hidden under the silver dome of the tray. "I think you missed your calling in life, Mr. Worthington. Ever thought about a career change to the hospitality industry?"
Although this book is only told from the heroine's point of view, this is a worthwhile read. The hero and heroine are both enjoyable characters that kept me entertained from start to finish with their back stories and their growing relationship. Ben has been through so much and the heroine is good for him. He works too hard and I liked that the heroine wasn't afraid to push him to spend more time with his baby. It's palpable that he loves his child, but at the same time, the little girl reminds him of a painful moment in his life where he failed someone he loved. While Sarah is strong, brave and I liked how determined she was to succeed in her new au-pair position. At the beginning, I felt sorry for her, as she struggles with the baby a bit. However, in saying that, the bond between the heroine and Ben's daughter in the end is a wonderful one. No one besides Ben could love the adorable little girl more than she does.
Overall, Ms. Duggan has penned a fantastic read in this second book of her Heart in the City series where the romance between Ben and Sarah was hot when they finally moved their relationship from platonic to physical. The way this story ended was perfect, as Ben's sister gave the heroine some wonderful advice and then Sarah did something that I totally wasn't expecting. She finally learns just how much family secrets can hurt and wasn't afraid to take her pain out on the one person at the helm of Ben's pain. However, what I liked most about the ending was how Ben made things right with Sarah. No doubt his subterfuge when it came to getting her to see him was needed. Yet, it was his words that made me smile. Is a really good grilled cheese the way to Sarah's heart? I would recommend New York Nights, if you enjoy the second chance romance trope or New Adult romance.
Book Info:

Publication: January 29th, 2017 | Hachette Australia | Heart of the City #2
Sarah Williams is a spirited, independent Aussie who has always dreamed of New York City. So when a job opportunity arises to become an au pair for a successful businessman in the heart of Manhattan, Sarah jumps at the chance to follow her dream.
What she didn't bet on was a beautiful newborn and a distant, abrasive man whose eyes hold a million anguished secrets. Determined to care for his daughter and face the challenges of the impossible Ben Worthington, Sarah was always prepared to follow her heart; she just wasn't prepared to lose it to a complicated man like Ben.