Night Games (The Blue Dynasty, #1) by Lisa Marie Perry: Charlotte Blue has worked her whole life to get to her current position as an NFL trainer with the Las Vegas Slayers. Even though her parents recently bought the team, they haven't made it easy for Charlotte to break into the male dominated field. But once she's in,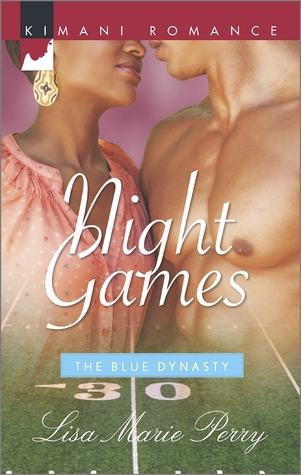 their expecting her to be perfect, a role model for young girls, and most of all, they don't want any Charlotte Slipups.
'Did you come to this club to meet the person you're going to marry?' 'No,' he said without a hitch. 'Neither did I.' The relief shone on her face. 'Consider this a fantasy, with now real expectations. So what if you and I drop the formalities and the whole list of Dating 101 get-to-know-ya questions?
All of that changes when she goes out with her good friend Joey before the team party and meets a sexy stranger. Charlotte is willing to throw caution to the winds and spend the night with him, but before they can finish what they started, she has to leave to network at the party. She's more than a little surprised when her aborted one night stand walks in!
Nate Franco is surprised to learn the woman he'd invited back to his suite was the new trainer and the new owners' daughter, the woman everyone believes has her sights set on the job he's in line for. Nate's family used to own the Las Vegas Slayers, and the loss of the franchise has devastated his father and brother. Nate isn't the star athlete his brother was and doesn't believe he's ever made his father as proud as Santino's career did. His brother Santino saved his life and he owes him. With his own job and family legacy on the line, Nate is determined to prove that the Blues stole his family's legacy.
Even though they are enemy's at worst and colleagues at best, neither Charlotte nor Nate can resist the connection between them, and they're soon involved in a forbidden affair. But as secrets and motives are revealed, can Charlotte and Nate move beyond family rivalries and career moves to score true love?
Introducing a new series is always tough. You have to establish many of the characters we will see throughout the books and nail the setting and larger story while focusing on the two lovers who are actually showcased in the book. For this reason, it can be hard to pull off the right balance of introduction and a complete romance in a first book. Night Games is the first book in The Blue Dynasty series, and I was worried that it would fall into this category of Backstory Purgatory. It turns out that my worries were unnecessary.
I really liked Night Games. Ms. Perry packs enough sexual tension and plot twists into this book to keep the reader invested in Charlotte and Nate's story. I liked the way that she set up the plot twists so well that you should have seen many of them coming but it's possible to miss them because you're so caught up in the story. I'm excited about the next book and the circumstances that the characters and the team were left in. But most important, as always, I genuinely liked the characters and was invested in their happily ever after.
The characters of Nate and Charlotte are given center stage here. Ms. Perry does a wonderful job of not letting the things that happen in the story overshadow the people we're supposed to care about. She also gives the secondary characters (especially those who will be the primary characters in their own books) depth. I liked the interactions between the three Blue sisters–Danica, Martha, and Charlotte–as well as Nate's interactions with his Dad, Alessandro, and his brother, Santino. Nate's future stepmother, Bindi, the supposed gold-digger who was younger than her future husband's children, even had more depth and dimension than I expected.
The only drawback to Night Games was that it took me a little longer than I would have liked to get into the book. Again, I know much of it was necessary to establish the series, but after that attention grabbing first line more than five kindle swipes to down to business with Nate and Charlotte. The same thing happened when we switched to Nate's point of view. It took a couple swipes to get past backstory and into the present. Once we got the characters set, the book was great, but I would have liked it better if it dove right in and gave me Nate and Charlotte in all their messy glory upfront.
Overall, Night Games by Lisa Marie Perry is a solid read that provides the sexual tension of the forbidden and the satisfying plot twists that make a story like this work. I would recommend Night Games to anyone who loves lovers in competition, hidden agendas and forbidden love against the backdrop of competitive sports and family drama.
Book Info:

Published February 18th 2014 by Harlequin Kimani | (The Blue Dynasty, #1)
Training the Las Vegas Slayers by day, sampling Sin City's delights by night, Nate Franco's life is one to envy. But a hot nightclub encounter could change all that. Because Charlotte Blue is more than a beautiful stranger. She's the daughter of his team's new owners—and his rival for the top training job. To keep his career and his legacy intact, Nate's prepared to play a little dirty.
Charlotte works hard to make her mark in a male-dominated sport. On the field, she and Nate are the picture of professionalism. In the bedroom, she's risking everything for their breathtaking forbidden affair. But is Nate just using her so his family can reclaim the team—or will they be able to look beyond the passionate games to embrace real love?