In No Falling Allowed (No Kissing Allowed #2) by Melissa West, the common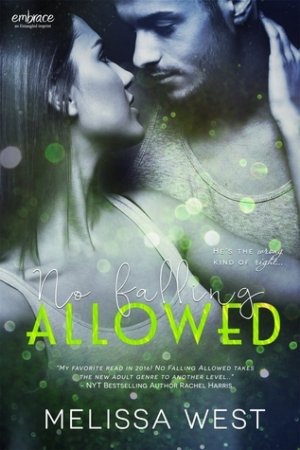 belief that bad things come in threes certainly applies to Grace Soaring's life at the moment. First, the guy she had an intense one-night stand with leaves without saying goodbye, then she loses her job and lastly, her parents have cut her off from the family fortune because she doesn't want to follow the path they want her to. Things can't possibly get worse, right? But just when she's starting to get her life back on track, she finds herself face-to-face with Noah Hunter, her one-night stand in his small hometown. Will they be able to work out things between them, so they can have a chance at forever after?
"If you're scared, just say it. Wouldn't be the first woman intimidated by my charm."
A small smile played at her lips, and I knew I was close. "I'm not scared."
Once more our eyes locked. "So prove it."
"You are trouble, you know that?"
"You have no idea."
Every book I've read by Ms. West I've absolutely loved, and this one was no different. Right from the beginning, this story was engaging, fast-paced and had me hooked with the excitement of Grace's friend talking about Noah. However, it was the moment that the hero and heroine met that had me glued to every word of this book wanting to see how things would turn out between them. Noah is cocky and confident, believing that Grace will fall for his charms. The question is – will she do what he asks?
The dialogue was well-written and a perfect blend of intense and playful. Grace goes through a lot, and yet, she proves how strong she is with everything she goes through. How she comes out on top in the way she thrives at a job she's better suited to and handles her dad when they finally have a face-to-face talk after her parents disown her. Moreover, I liked how every time Grace or Noah said the word God what Noah's little brother – if he heard the word — would make them do every time they said it.
"Wrong again, City."
"Oh yeah? So what are you?"
I leaned in and whispered against her ear. "I'm the bad boy who's tired of being good."
"Is that right?"
"Let's get out of here."
"So you can show me your bad boy side?"
This book had an incredible array of characters in both the main and secondary ones, although Lauren – one of Grace's friends – husband was a complete jerk with the way he embarrasses both Lauren and himself. As for the main characters, Noah and Grace are total opposites. She comes from money, seems like a perfectionist when it comes to her job and lives in a big city. He owns a bar, seems like he breezes through life with a come-what-may attitude and lives in a small town. However, he does prove he knows how to be responsible through how much he cares for his little brother. They're all each other have, and I liked that Noah would do anything for him and how he stepped up to be his brother's guardian when their parents died.
Overall, Ms. West has penned a wonderful novel where the sex scenes were hot and did justice to this couple's intense chemistry. Although, the pair are complete opposites they're perfect for each other. The way this story ended was delightful, and had me cheering for this couple's happy ever after. Noah's plan to make things right with Grace was sneaky, but I guess it was the only way he was going to get her to see him. Also, I loved the big decision Grace made in the epilogue that proved she was willing to whatever it took to be with Noah. I would recommend No Falling Allowed by Melissa West, if you enjoy the opposites attract trope.

Book Info:

Publication: July 18th, 2016 | Entangled Embrace| No Kissing Allowed #2
My life just went South…
Twenty-four hours. That's how long it took my life to flip upside down.
Wake up in bed alone after the best night of my life? Check.
Get fired instead of the promised promotion? Check.
Wealthy parents cut me off when I refuse to follow their path for my life? Check.
Now I'm in Cricket Creek, SC—a place where no New Yorker belongs—disowned and broke, with a new job that I can't mess up. Oh yeah, and staring at my one-night stand, who happens to be the complete opposite of my type.
Southern.
Cocky.
Bartender.
Noah Hunter never should have made it back to my apartment in NYC, and I definitely shouldn't be in his small town. But fate had another plan. Or a horrible sense of humor.
Who knew Mr. Wrong could feel so right…