In No River Too Wide by Emilie Richards, Janine Stoddard's chance at freedom was drawing near. Years of emotional and physical abuse had taken a toll on her mind and her body, but her spirit remained intact. No matter what her bitter husband tried to do to her. So she stole away into the night when he didn't come home as planned, getting away as quickly as she could before he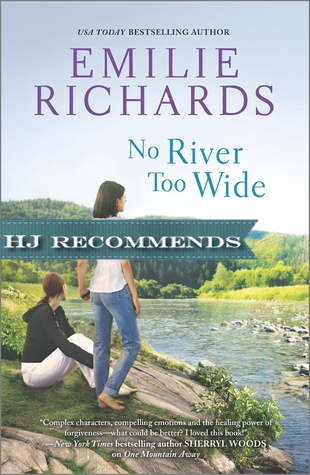 tracked her down. A network of women made it their cause to assist Janine in her journey, somehow helping her find her way to her precious daughter Harmony. The night Janine arrives at Harmony's door and sees her granddaughter Lottie for the first time is truly magical. But she knows she has a long road ahead before she's safe from her husband.
'She had protected Harmony to the best of her ability throughout her childhood, and now Harmony was trying to protect her. Would there ever come a time when both of them could think about ordinary things?'
Harmony wishes her mother had left her father sooner, giving them the peace that was so deserved. She understands why her mother was so fearful, though, and is just glad to get some time together. So when Harmony's friend, Taylor Martin, a woman who believes in giving back, is willing to help Janine and Harmony stay within close proximity of each other, neither mother nor daughter can refuse. They are all hopeful that Janine's husband won't be able to follow her trail to Asheville, but as a newcomer begins to sniff around, they worry that their biggest fears may come true.
'How did a woman go back in time to the person she once had been, untouched by knowledge that people were not necessarily good, that some people liked to cause pain and despair, that sometimes those people could hide the blight that stained their souls for months, perhaps even forever?'
No River Too Wide is a powerful journey we take with Janine Stoddard as she breaks free of her abusive husband, starting her life over again with some incredible new-found friends helping her along her way.
Stories of abuse are obviously not always easy to read but they carry important messages from which we can all learn. This was a very emotional book, being a subject that is very near and dear to me. And although this is a work of fiction, author Emilie Richards has painted a pretty realistic picture of what life in the hands of such a monster would be like. I will warn that there are some flashback scenes where Janine remembers different traumatic events, but none are overly graphic. It does, however, show the level of emotional stress her husband caused her and her children on a daily basis.
I thought Ms. Richards did a good job of expressing the fear and helplessness Janine felt as she longed to find a better life for herself, but most especially for her children. And we learn why she stayed in the relationship as long as she did, which is always a question I think people have when reading about such situations. I was happy Janine was able to reconnect with her beloved daughter, Harmony, and build such wonderful new friendships with strong women and devoted, protective men. I may not have been crazy about Harmony's attitude or thought process sometimes, but her heart was in the right place. Plus, of course, she was still healing from her father's abuse, herself.
When I began reading this, I wasn't aware that this was actually book three in the Goddesses Anonymous series. I thought it was a single title. But, I found it was very easy to read this independently and have it make complete sense. There was also an interesting subplot with not only Harmony entering the dating world again, but with her friend Taylor Martin being interested in a man for the first time in many years. Taylor's love interest, Adam Pryor, turns out to be very important in all of the women's lives, but not in the way I would've guessed at the beginning of the story. I thought all of the secondary characters here were quite well defined, adding something unique to the plot and enhancing or changing Janine's life in some way.
If you're a fan of emotionally driven women's fiction with a sense of hope, I would suggest reading No River Too Wide. There may be a lot of heartache along the way, but the ending is worth it all.
Book Info:

Published June 24th 2014 by Harlequin MIRA
Some betrayals are like rivers, so deep, so wide, they can't be crossed. But for those with enough courage forgiveness, redemption, and love may be found on the other side.
On the night her home is consumed by fire, Janine Stoddard finally resolves to leave her abusive husband. While she is reluctant to involve her estranged daughter, she can't resist a chance to see Harmony and baby Lottie before she disappears forever.
Harmony's friend Taylor Martin realizes how much the reunited mother and daughter yearn to stay together, and she sees in Jan a chance to continue her own mother's legacy of helping women in need of a fresh start. She opens her home, even as she's opening her heart to another newcomer, Adam Pryor. But enigmatic Adam has a secret that could destroy Taylor's trust and cost Jan her hard-won freedom.