No Sunshine When She's Gone is the 3rd book in the Barefoot Willams series by Kate Angell. It is also the first book that I have had the privilege to read by this amazing author. I loved this book so much I rushed to download the first two books in the series. Although this was the 3rd in the series at no time did I feel like I was lost or missing something. This book can totally be read as a stand alone in the series. Let me tell you a little about this wonderful story that has me hooked and craving the other books in the series.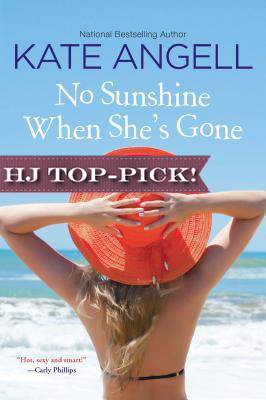 This story is actually the story of 2 different couples, Aidan Cates and Jillie Mac , and Carrie White and Mike Burke. Both of their stories are intertwined. Jillie and Carrie work in Promotions for the Richmond Rogues Baseball team. Aidan and Mike are building their new Spring Training Facilities in Barefoot Williams, Florida. As the story starts, Aidan and his girlfriend mistake Jillie for a fortune teller at a pier carnival. Isn't he shocked to find out that she is not who he thinks she is. Not until later that night when they arrive at his sisters does he truly learn Jillies identity. It is also the night that Mike has meet his match in shy, quiet, sweet, innocent Carrie White. He is rude and aloof, refers to her as Vanilla. But under it all, he takes an interest in Carrie, and she in him, both realizing that there is more to the other than meets the eye.
Jillie is one to bend the truth at times, she is fiercely loyal, loves her family, protects her friends, and feels an instant attraction to Aidan. But Jillie has been burned in the past, is always looking for an escape route. She doesn't trust that Aidan's feelings could be as strong as hers, so she keeps trying to push him away. It is not until she stops running, starts to really look at the possibilities that she begins to realize that she and Aidan could have something amazing. Carrie is afraid to believe that Mike can actually see past the uncertain girl, the girl damaged by an abusive father, she is totally surprised by the direction that their friendship takes. Uncertain of a future, she tries to live in the moment and knows that she is a better person because of what Mike has brought into her life.
I truly love both couples. The humor in this story had me laughing hysterically at times. Mike and Jillie would bicker over Mike's treatment of Carrie, Aidan and Mike would commiserate over how Jillie would nail them to the wall if they did not watch their step. Mike was super protective and loving with Carrie, doing little things to try and make things easier for her without trying to suffocate her. Jillie and Aidan dancing around the attraction that they felt for each other, both couple finally getting to the heart of the matter and seeing a HEA in their futures.
If you are looking for a feel good book about friends, family, a lot of laughs and a wonder double HEA, then pick up a copy of No Sunshine When She's Gone by Kate Angell. You will get so much more than you ever expected. I loved wonderful story so much I had to give it 5 AMAZING Stars.
Book Info:


April 29th 2014 by Kensington
Though his family owns the charming beachside town of Barefoot William, Aidan Cates is as down-to-earth as the locals. He's also practical to a fault and doesn't believe some psychic on the boardwalk can predict his future.
Jillie Mac is as free as an ocean breeze, so when the hot stranger and his date mistake her for a fortune teller, she's ready to have some fun. But one devastating secret told, one mistaken identity revealed, and numerous long summer nights later, it's Jillie and Aidan who discover that sometimes love comes with a simple twist of fate.