In Nuts (Hudson Valley #1) by Alice Clayton, Roxie Callahan grew up awkward in the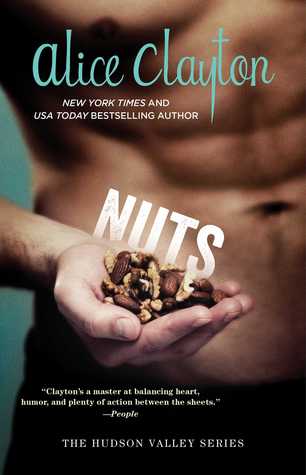 small upstate New York town of Bailey Falls. Since moving to California and becoming a private chef, she has finally found her true, slightly less awkward self. Building up a clientele in Hollywood has been amazing until one moment of distraction ruined her good name. With little left for options, Roxie accepts her mother's request to come home to the picturesque Hudson Valley and run their family's diner for the summer.
He shook his head. "You're a bit of a train wreck, aren't you?"
I puffed a bit of hair away from my face. "Choo choo?"
Thank goodness, he laughed.
Temptation in the form of an organic farmer with vivid green eyes walks in to the diner to deliver walnuts and suddenly Roxie's summer is looking up. After a series of sexy mishaps, she and Leo Maxwell start to give in to their attraction little by little. Neither of them are looking for a serious relationship. Just a summer fling. But when things move right on past casual into heart on the line territory, Roxie and her cute Farmer Boy may have some soul searching to do before the season ends and she has to decide if moving back to California for good is really what she wants.
'Whatever this was, it was the kind of fun that could quickly kindle into something beyond. That's what my instincts were telling me. But with the hopeless romantic gene pool I came from, I didn't know whether to trust my gut. Whichever way my heart told me to go, I usually ran in the opposite direction.'
I always know I'm in for a gigglesnorting good time when I sit down with a new Alice Clayton novel. Nuts is her raunchy but endearingly wonderful start to the new Hudson Valley series. If you're a foodie, or even a foodie wannabe, this small town contemporary romance will charm you through and through.
'Thinking someone felt the same attraction you were feeling was one thing; knowing that it was mutual was an entirely different kind of awesome.'
I will warn you of two things before you start reading this: 1.) Do not read on an empty stomach. You will be hungry in minutes with all of the yummy recipes and food combinations mentioned. 2.) This story will work best for people who are serious about cooking and all things food related. Luckily, that describes me pretty perfectly so I fell in love with both Roxie and Leo right away. I think that was why I also felt the connection between them when it seemed to miss the mark for a few book reviewers out there. Some readers didn't quite understand how a private chef and an organic farmer would be drawn together. To me it just made sense.
Like I said at the beginning, this is an in-your-face, lots of adult language romance. I love that about Alice Clayton's writing because, honestly, that's how my friends talk. So when reading this from Roxie's hilarious POV, I felt like I was sitting down to chat with her. It was nice that she knew who she was and knew that she didn't want a serious romance. She wanted strictly casual after watching her mom get her heart broken over and over when she was growing up. And for me, when Roxie met her sexy Farmer Boy and she fell for his steadiness, his genuine charm, I could completely see that happening in real life. It was believable and oh so much fun!
Quirky, lovable characters. Small town goodness and gossip. A surprise twist toward the end. Nuts was just an all-around raucously good time. I can't wait to see what happens next in Hudson Valley.
Book Info:

Publication: Published October 20th 2015 | by Gallery Books | Hudson Valley #1
From New York Times bestselling author Alice Clayton, the first in a brand-new romance series telling the humorously sexy tale of Roxie, a private chef who gets a taste of love—but is it to stay, or to go?
After losing almost all of her clients in one fell swoop following an accident involving whipped cream, private chef to Hollywood's elite Roxie Callahan gets a call from her flighty mother, saying she's needed home in upstate New York to run the family diner. Once she's back in the Hudson Valley, local organic farmer Leo delivers Roxie a lovely bunch of walnuts, and soon sparks—and clothing—begin to fly. Leo believes that everything worth doing is worth doing slowly…and how! But will Roxie stay upstate, or will the lure of West Coast redemption tempt her back to Tinseltown?