In Tempting Nurse Scarlet by Wendy S. Marcus, Dr. Lewis Jackson is having a hard time connecting to the daughter he never knew he had. Having a 13 year-old brought to you after her mother's death can be difficult, but even more when said 13 year-old is not happy about being with you. Lewis knows that this is also difficult for his daughter Jessie, she has lost her mother and has been uprooted and brought to New York. But he wishes things could be easier.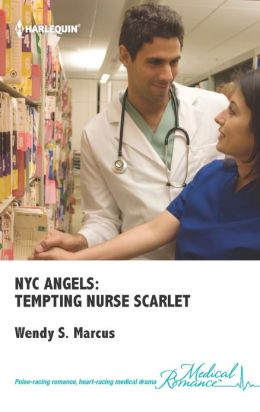 Scarlet Miller is the head nurse of the NICU. She may always be busy, but she has become very close to Jessie since the first time they met in the cafeteria. In Jessie she sees herself when she was a child, and knows that Jessie needs someone to love her and to listen to her. After all her conversations with Jessie, Scarlet expects Lewis to be the most awful dad imaginable. So when she meets Lewis she is surprised by what she finds.
After many months celibate, Lewis isn't surprised by his instant attraction to Scarlet, but the fact that he has not felt attracted to any other woman since he has had his daughter is surprising, even more that no other gets him even remotely interested. He is used to having very superficial relationships with women, he does not want anything serious. But he knows that Scarlet is not someone he can have an affair with, she is his daughter's friend and that complicates everything.
Scarlet only cares about her patients well being, but she cannot help feeling attracted to Lewis and his daughter. She knows that she wants the best for Jessie, but helping Lewis get close to her and helping them will only bring her closer to them, something that she does not want.
Scarlet and Lewis had very difficult childhoods and their past still affect their present lives. If they want to have anything beyond an affair and have a chance at being the family they are becoming, they must first accepts the past and forgive the mistakes of others.
Scarlet is a very likeable character, she is responsible and loving, but her past taints her view of love and how it's supposed to work. She feels like her biological clock is ticking, something that will affect her when she becomes too attached to a baby who's mother died after giving birth.
Lewis will take a piece of your heart after knowing what he went through as a child. He is afraid to trust in love, having two parents who basically ignored him and one who emotionally abused him is not something that he can forgive or forget. But when faced with loosing the woman he is falling for because of his inability to connect and the illness that is about to take his father from him will make him face his past and see that not everything is as he remembers.
If you want a wonderful story with two scarred characters and a teen that become the loving family they never thought they could have then you will definitely like NYC Angels: Tempting Nurse Scarlet by Wendy S. Marcus
Book Info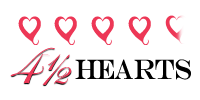 Publisher: Harlequin Medical Romances (May 1, 2013)
Breaking all her rules…
Head nurse Scarlet Miller's take-no-prisoners attitude makes her a force to be reckoned with on the neonatal ward, but no one has ever questioned her devotion to her patients. She thought her hidden vulnerability was impenetrable…but E.R. doc and struggling single dad Lewis Jackson ties her heart up in knots! Suddenly this tough-cookie nurse is wondering if Lewis and his troubled daughter might actually be her undoing….