Off Limits by Clare Connelly is one of the first entries in Harlequin's new Dare imprint, one that promises to turn up the heat from the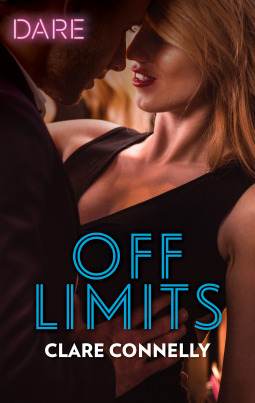 previous Blaze line. This particular entry is a steamy workplace romance.
Gemma Picton has been billionaire Jack Grant's in-house counsel for a few years and has seen enough women come and go from his life to know that she wants no part of his revolving bedroom door. But that doesn't stop her from lusting after him in secret. Though her duties have evolved into much more than just legal advice, even work trips have been kept strictly business. But when the spark between them suddenly becomes too big to ignore, will a heated affair evolve into something more or mean the end of a successful working relationship?
The start of this story is confusing, and I had to read the prologue twice to figure out what was going on. This is due to the story being written in present tense from first person point of view, so you are dropped into the story as Gemma is having a conversation with a naked Jack, and trying to figure out what's happening. In itself that signals that this is going to be a pretty steamy line, and while Gemma and Jack don't sleep together until later in the story, Jack is clearly all about sex and how much of it he can get.
But there is a reason for this. Jack's young wife Lucy died from cancer and he's still grieving. His way of forgetting is to have copious amounts of sex but never with them same women since he's now commitment shy. The sex scenes between Gemma and Jack, once they succumb to their attraction are steamy and varied. And one thing I liked in particular was that Gemma is willing to listen to Jack as he brings his grief for Lucy's death to the surface. He's never been able to share his feelings about her death with another woman, and it brings them together emotionally. The conflict is an internal one as Jack has to figure out how to let one woman go and let another one into his life. Overall I found the story an entertaining and sexy one once I got past the start and I'm looking forward to reading more in this new line.

Book Info:

Publication: Feb 01, 2018 | Harlequin Dare |
"I want to taste you tonight."
With chemistry this hot, it's worth getting burned…
Billionaire Jack Grant is totally off-limits to Gemma Picton. He's wild, deliciously dangerous…and her boss. When working late turns X-rated, it's better than her wildest imaginings—and Gemma's imagined a lot! But Jack has major emotional baggage, so when Gemma starts wanting to heal his heart as well as enjoy his body, she knows she's in big trouble…